How to View Your Top Selling Items in AirPOS Reports.
This report consists of a comparative bar chart of your ten top sellers in terms of revenue generated. Again the date range can be customised to a specific day, week, or month and the data is all exportable as a .CSV file.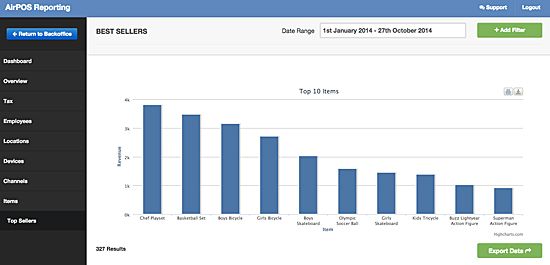 The second part of the report is a table showing all the data for each item in your inventory which has been sold in the time period of your date range. The items are arranged with the top sellers in terms of revenue at the top of the table. This table includes information such as the quantity of items sold (useful for stock keeping purposes), the total revenue from each item or product, the tax paid, the total cost price, the gross margin and the profit margin as a percentage.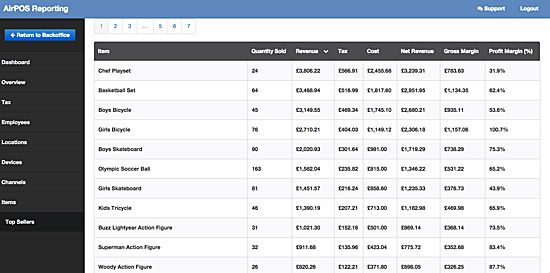 The items report can be particularly useful if you have multi locations and you want to know what quantities of stock from each location had been sold in order to replenish stock.
Say for example you want to know just what was sold from your head office branch for the month of January. In the items report you would click in the daterange box and select the month, then you would press the 'Add Filter' button as seen below…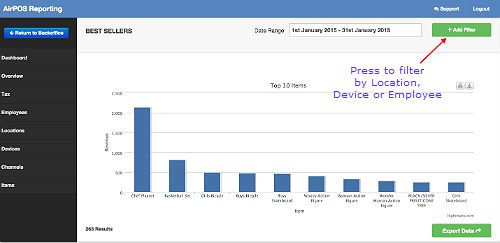 You would then select from the dropdown list 'Location' and another window will open asking for which location. This dropdown list will comprise of the locations you have previously defined in the backoffice.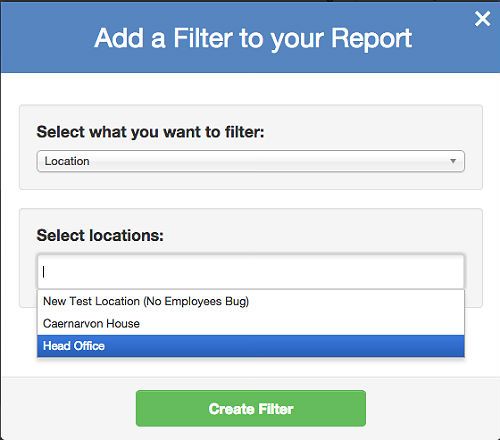 Press the green 'Create Filter' button and your report now shows a complete list of inventory items sold from the head office branch for the month of January.
You can similarly add a filter for a specific item. Instead of selecting 'Locatiion' as your filter click or tap on 'Item'. In the next popup if you click or tap in the 'Select Items' box your items will be shown and you can select the item you want to view the sales for.