The following is a step by step guide on how to utilise our Shopify webstore integration. Please follow these steps carefully, if you have any issues feel free to contact our support team we'll be happy to help.
Currently our AirPOS integration pushes products from AirPOS to Shopify. Soon the facility will exist to also pull items from Shopify. As you'll be selling in your shop, online and perhaps also on the move AirPOS needs to be your 'gold record' for stock and as such any new stock should be added to AirPOS first not Shopify.
Steps Prior To Enabling The AirPOS / Shopify Integration
In AirPOS, set your main location to "Accepts Web Orders"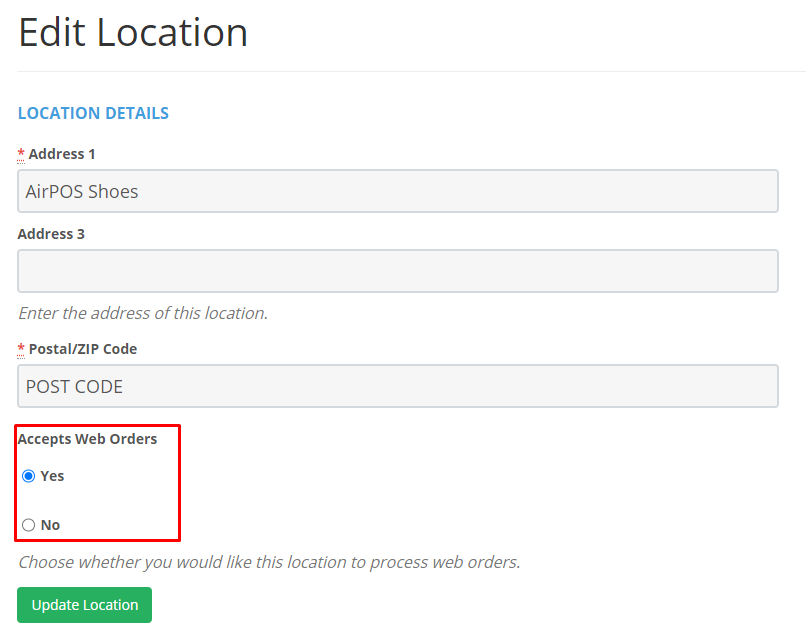 If you are creating new item(s) it's safe to do so but DO NOT enable "Sell Online" for now.
If you have an existing AirPOS webstore you are likely to have many items set to "Sell Online" already. Note that on your initial sync with Shopify (triggered by pressing the first sync button later) these items will transfer over to the Shopify store and be linked between AirPOS and Shopify.
To stop this from happening you can bulk edit items to not "Sell Online" now but this will remove them from your AirPOS webstore. It's a good idea to decide on a switchover date and seek our help via the usual support channels in the AirPOS backoffice prior to the initial sync.
You can now add stock numbers to any new items you have added.
It's a great idea to fill in your item descriptions at this stage also as this information will also sync to Shopify.
Your AirPOS categories and sub categories will be transferred to Shopify as 'tags' which we will use later to create Shopify 'Collections'.
Enabling The AirPOS / Shopify Integration
AirPOS have not yet launched our Shopify integration publicly. To access the AirPOS Shopify integration visit (you'll need to be logged in to the backoffice) https://backoffice.airpointofsale.com/integrations/shopify

You'll see a screen like this: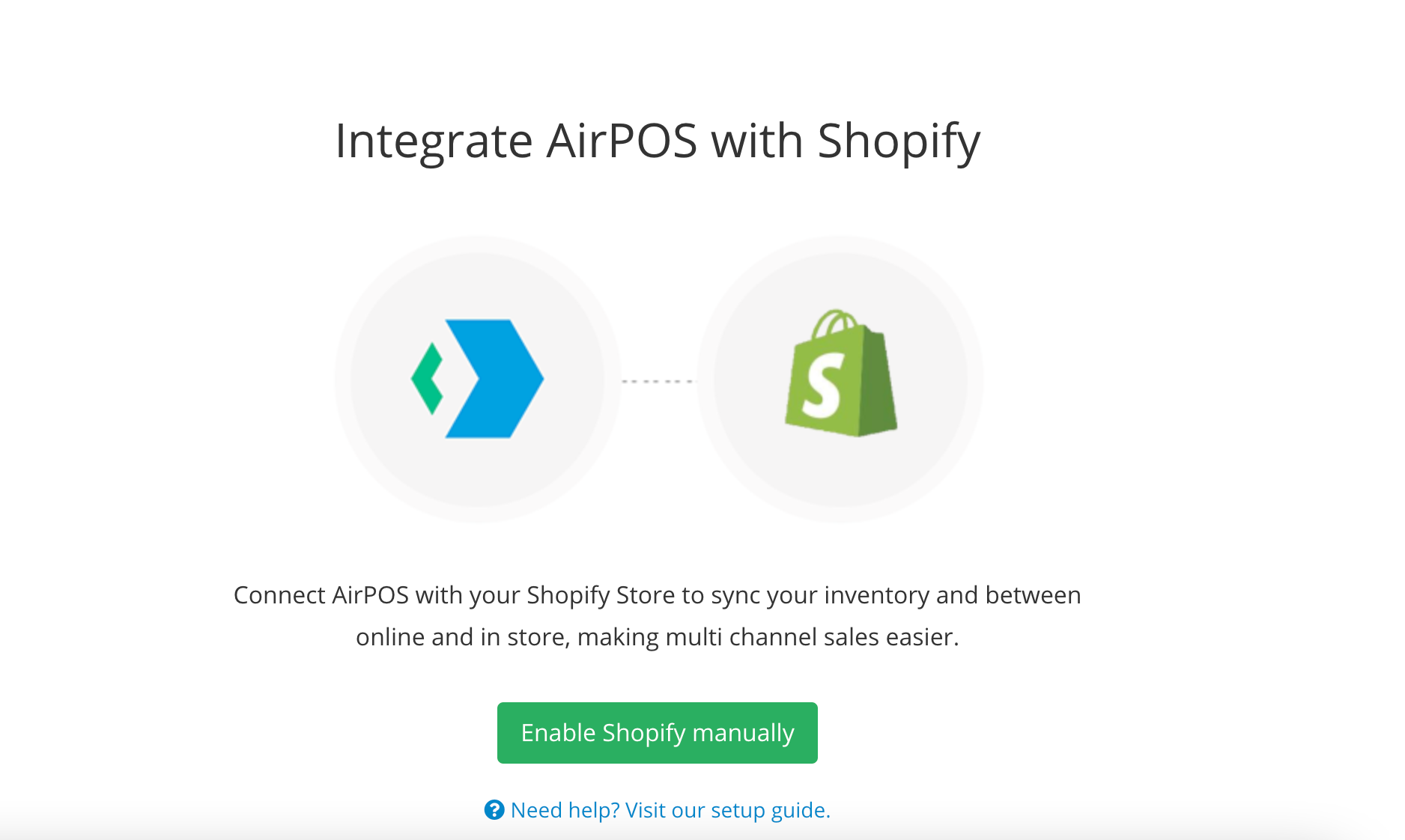 Next log in to your Shopify account.
Click on Settings at the bottom left of the nav menu.
Now click on Taxes from the Settings menu.
Scroll down to Tax Calculations
Tick the box marked All Prices Include Tax
Click the Save button that now appears at the top of the screen.
Now, to connect your Shopify account with your AirPOS account you need to provide an API Key and Password for your Shopify store.
Click into Apps menu item on the left-hand nav menu.
Click the Manage Private Apps link at the bottom of the page.
Click on the button in the right top corner Create A Private App
Enter the Title of the app (e.g. AirPOS Shopify Integration) and provide an emergency developer contact email (e.g. support@airpos.co.uk)
Now grant the private app permissions to enable data interaction with your store. To do this, for each of the following permission groups click on the drop-down menu and change permission status from "No Access" to " Read and Write"
These are the essential API permission groups needed: - Products - Fulfillment Services - Inventory - Orders - Shipping
After that, click Save App
Your API Key and Password will appear right after you save the app. You'll copy these to your AirPOS backoffice to complete the integration.
You will also need the URL of your Shopify store (i.e. "https://airposhardware.myshopify.com/") take a note of this.
Enter the API Key and Password from your Shopify account into the fields provided followed by the URL of your Shopify store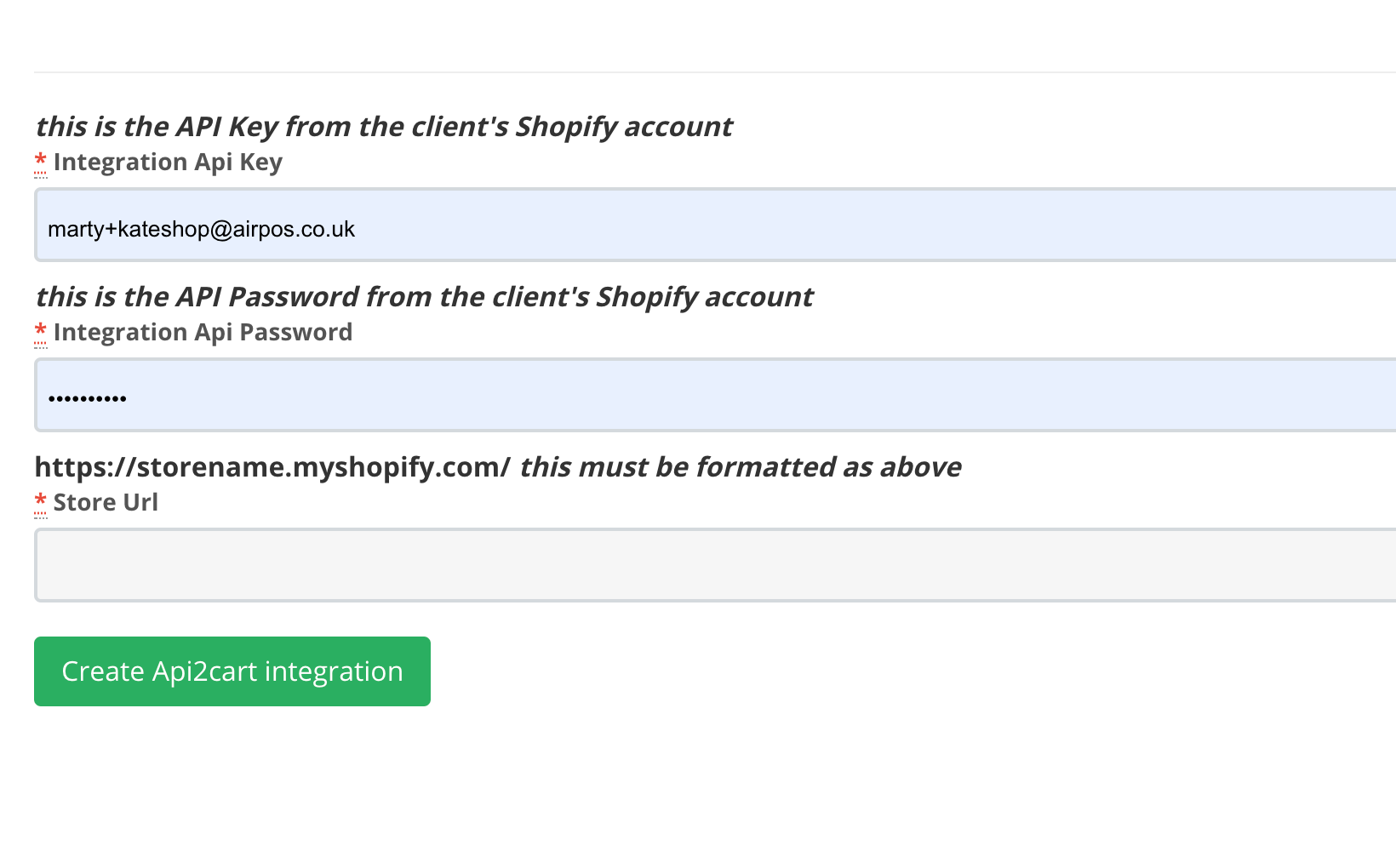 The first option you will see once your integration has been authorized is a button to press to start the initial sync from AirPOS to Shopify - this will take all the products marked as sell-online and upload them to Shopify.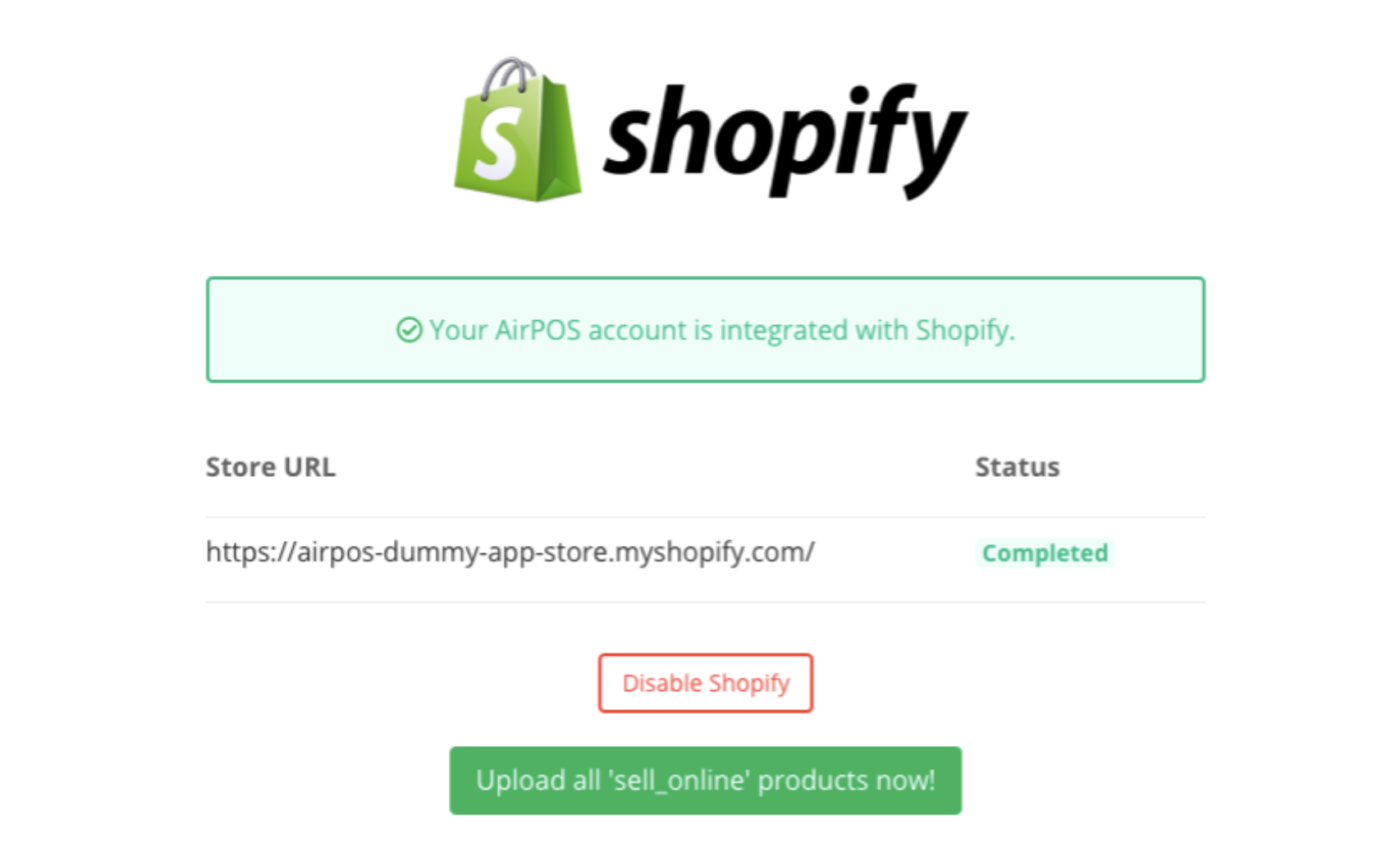 An email will be sent when this process is complete. For large inventories you'll need to allow a couple of hours for processing.
From here on in items, Item Imports and Bulk Edits will also trigger items to sync with Shopify if their "Sell Online" status is set to Yes. Manual updates to individual products will also be uploaded to Shopify immediately if their "Sell Online" status is set to Yes.
Notes:
Item Imports and Bulk Edits are processed hourly, they do not appear in Shopify immediately
Updating stock numbers on Shopify will not change the stock values in your AirPOS backoffice yet, this functionality is being built soon
Items that are created in AirPOS have a default stock value of 0, so once synced to Shopify, it will have a Stock Value of 0 - this is why we recommend finalizing all products with stock before marking the item as "Sell Online" with Shopify