Connecting the StarSM- S230i Bluetooth Printer with your Android Tablet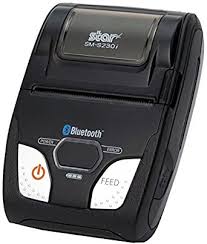 The Star S230i is a compact portable Bluetooth receipt printer.
Changing the Star S230i Printer to Bluetooth Mode Prior To Pairing With Your Android Tablet.
In order to work optimally on the Android tablet you will need to put the printer in Bluetooth Mode for Android.

To do this press and hold the POWER button and FEED buttons on the front of the printer simultaneously for approximately 5 seconds. The red error lamp LED will flash 5 times and if successful the printer will  then print its settings. If the printout reads "PORT = Bluetooth (iAP)", repeat the process. The printout should now read  "PORT = Bluetooth" .
On the Android Tablet press the Home button to get back to the home screen, locate and tap the Settings app. Tap on Bluetooth in the left-sided menu and set Bluetooth to ON. The tablet will search for nearby Bluetooth devices. When it finds the printer it will be in the available list as 'Star Micronics'. Tap on this. If you are asked for a code to pair the printer to the iPad then enter the default code which is 1234.
Having put the printer in Bluetooth Mode and paired it with your Android Tablet the next step is to configure it on AirPOS.

Open the AirPOS App and press the settings button at the top right of the screen. Select from the left margin 'Peripherals' and press the green 'Add Printer' button as shown below.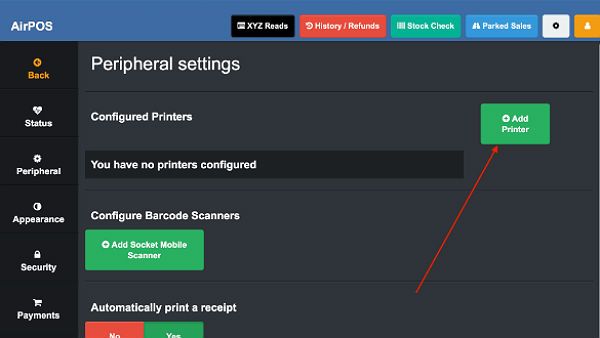 The AirPOS application will start searching for any nearby available Star printers and you'll see a screen like that below.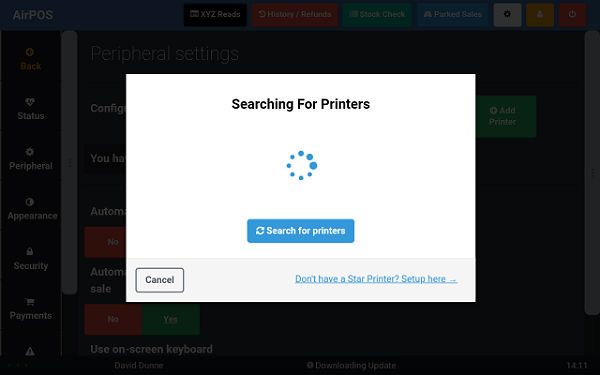 After a few moments any nearby available Star printers will be displayed in a list like that below.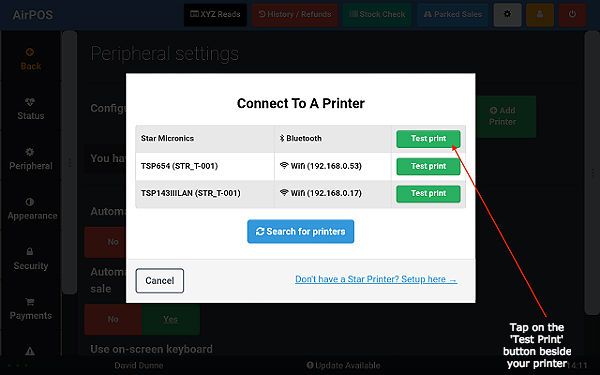 Tap on the 'Test print' button beside the 'Star Micronics' bluetooth printer. You'll be prompted to select your printer from a dropdown list.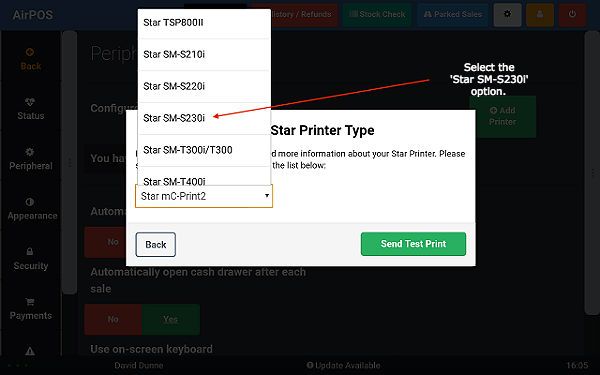 Select the 'Star SM-S230i' option. In the next screen tap on the 'Send Test print' button as shown below.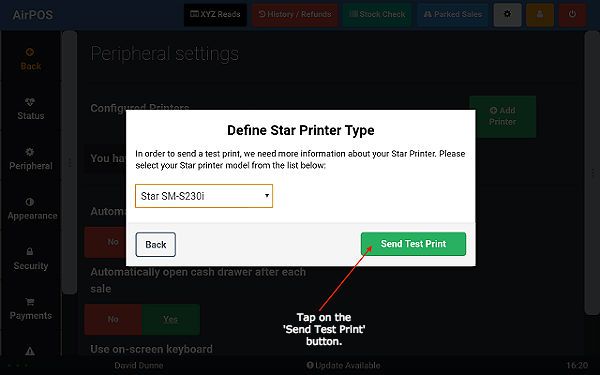 You'll see a popup like that below. Tap on the green 'Use this printer' button and that's the printer setup to use with AirPOS on your Android tablet.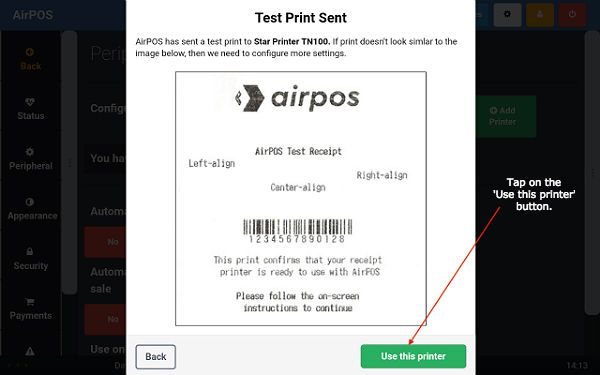 Just tap on the 'Back' button to return to your catalogue.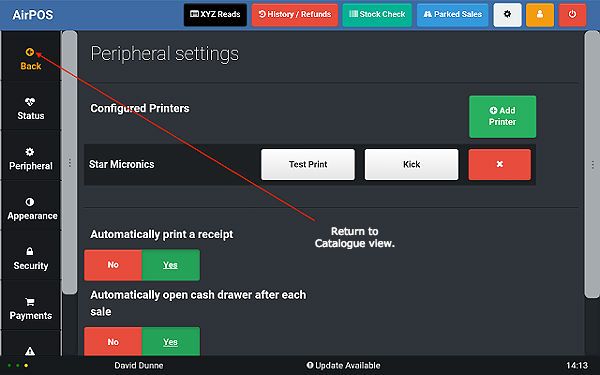 NOTE
If the 'Star Micronics' does not show up in your bluetooth devices list, remove the battery pack from underneath for 10 seconds. This will effectively 'reset' the printer and you should start the tutorial from the beginning again.