If you have a large inventory it can be difficult to keep an eye on stock levels across your catalogue for re-ordering purposes which is where 'just in time' warnings can be invaluable, especially at frantic periods such as Christmas.
In AirPOS you can set a low stock warning number which is triggered when an item reaches this stock number. For example you have set your Batman Action Figure low stock warning to be 5 items. On the day that the item reaches this figure you will receive a reminder email allowing you to re-order to ensure that the item remains in stock.
Of course AirPOS stock system operates both in the shop and also online meaning that you have just in time warnings for items no matter where you are selling them which is invaluable in making sure that online orders are quickly fulfilled.
By default the low stock warning feature is disabled. It can be enabled in the 'Edit My Account' screen. To access this screen click or tap on your company name at the top right of the screen or on 'Account & Billing' from the left margin and selecting 'Edit My Account'.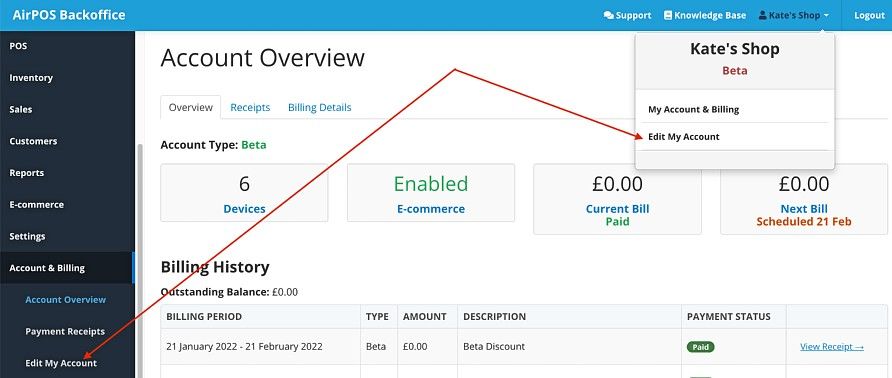 In the 'Edit My Account' screen if you scroll down you'll see a switch to enable low stock warnings. Turn that on and press the 'Save' button.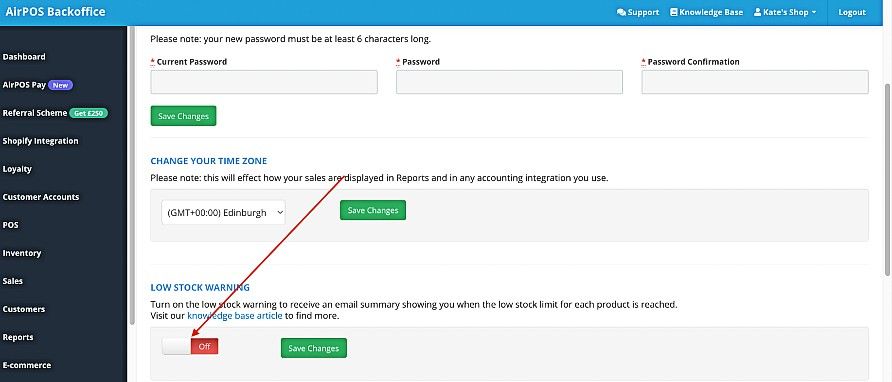 The screen will change to one similar to that below to tell you that 'Low Stock Warning Email Enabled'.

In your backoffice you can set a stock level for any product which, when the stock level falls below, you'll receive an alert by email. To do this go to 'Inventory' from the left margin of your backoffice. Scroll through your inventory or search for products by name or barcode. When you see the product that you want to set a low stock threshold for click or tap on the 'Modify Product' button to the right of it. In this instance we are setting a low stock level for the product 'Anger Figure'.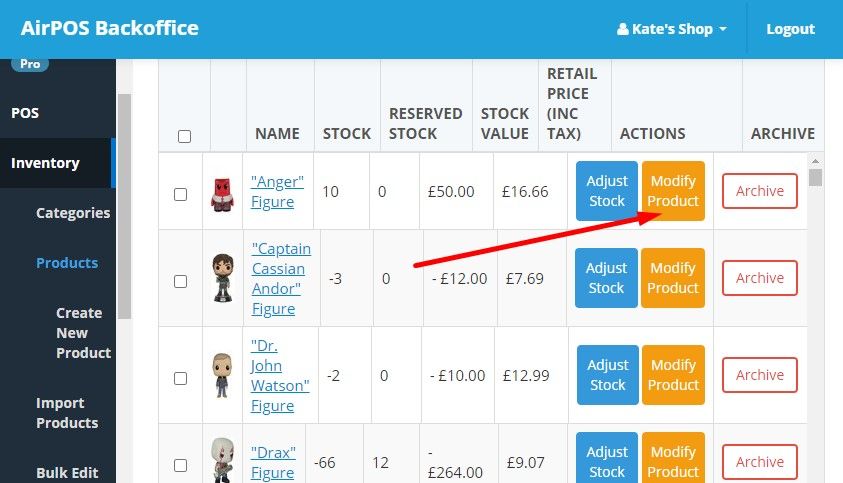 Scroll down the modify screen and you'll see something similar to the image below. At the bottom right you'll see a 'Warn Level' box. Enter the level of stock at which you want to be warned that stocks are running low and press the 'Update' button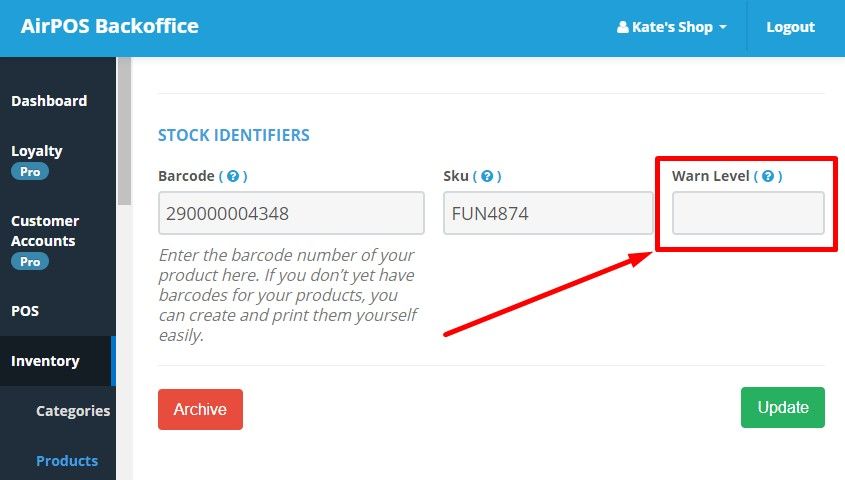 Once you've decided at what level you want a warning enter the value in the 'Warn Level' box as shown above and tap or click on the 'Update' button. In this instance when stock levels for 'NFL Football' reach 5 or below an email will be sent to the email address of the account to advise of this.
Once you've enabled the low stock warning you can set the level for this for your products individually from the 'Inventory' screen of the backoffice. If adding new products, you can set this in a new column that has been provided in the product import template which you can download from the 'Import Products' screen as shown below.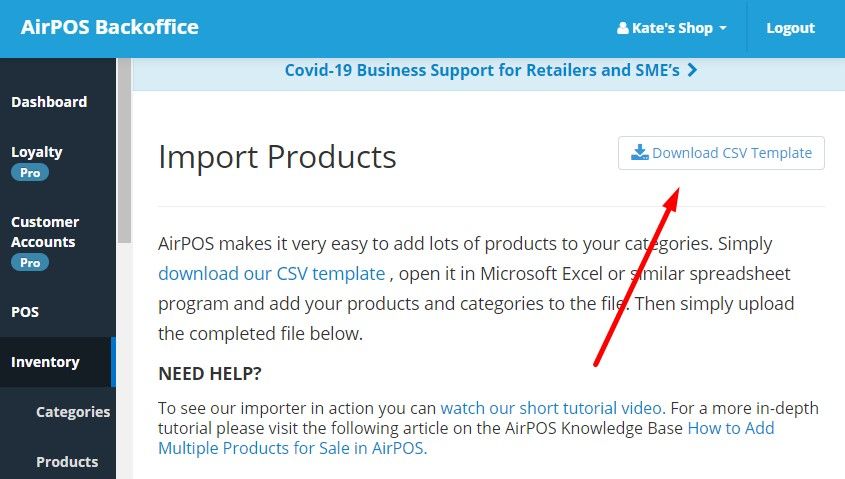 When you open the template in a spreadsheet you can enter the low stock level at which you'll receive a warning by email.
If you have existing products and you want to benefit from this feature with all of your inventory the bulk edit tool can be used to set a low stock level warning in bulk.
Notes:
Once turned on, users will receive an email ONLY when they've set a warn level on individual products and when the low warn level has been reached.
Emails with low stock warnings are not instant. You will receive an email once a day with the items that have triggered their low stock warning as seen below.