The default view for Sales data features a simple tally of that day's total number of sales, transaction totals and web orders for all locations.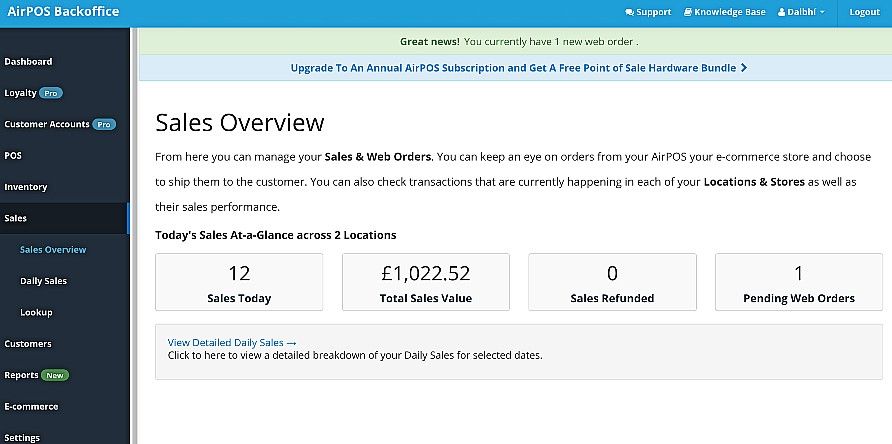 Viewing Daily Sales
Daily sales data and historical daily sales data are accessible via the 'View Detailed Daily Sales' link beneath the sales overview (see above). Daily sales are reported in a calendar view offering simple access to both current and historical sales data.
NOTE: Real-time sales reporting is only enabled if an internet connection is maintained at the Point of Sale terminals operating the AirPOS desktop POS client. If the AirPOS desktop ePOS client is in offline mode sales will only be reconciled to the back office when an internet connection is re-established and the data synchronises. That days sale's, however, will remain available inside the AirPOS desktop ePOS client.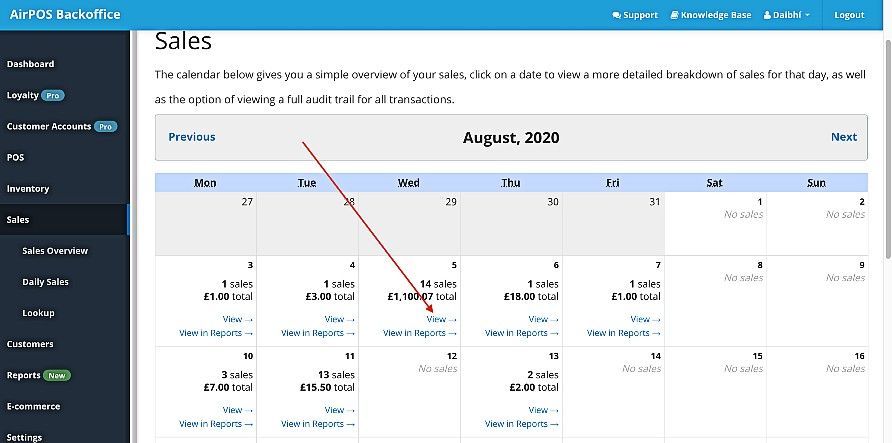 Detailed Sales
You can also see your sales details at-a-glance. Clicking on the 'View' link on any date from the previously mentioned calendar view (see above) which go as far back as from the first day you started using AirPOS. You will see your 'Z' reads with the opening and closing times of each of your devices for that date at the top of the screen as shown below;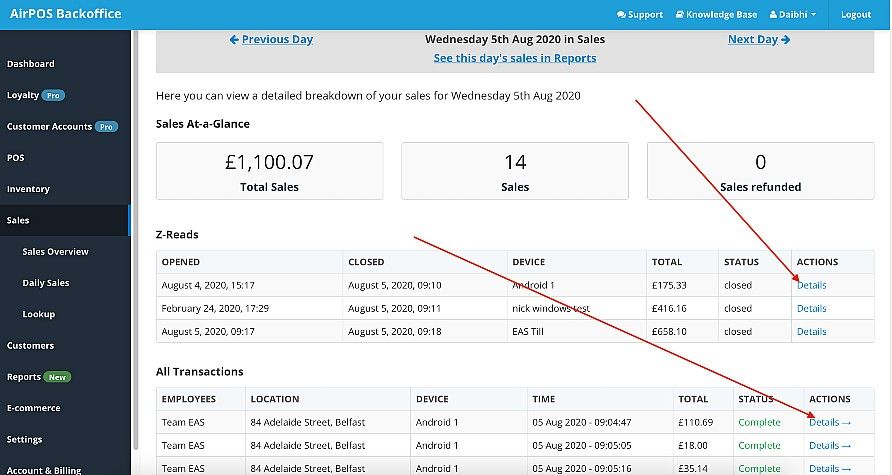 By Clicking on the details button beside each 'Z' read you can view the daily totals by tender type and the expected cash in the drawer ( your takings plus the float ) as seen below.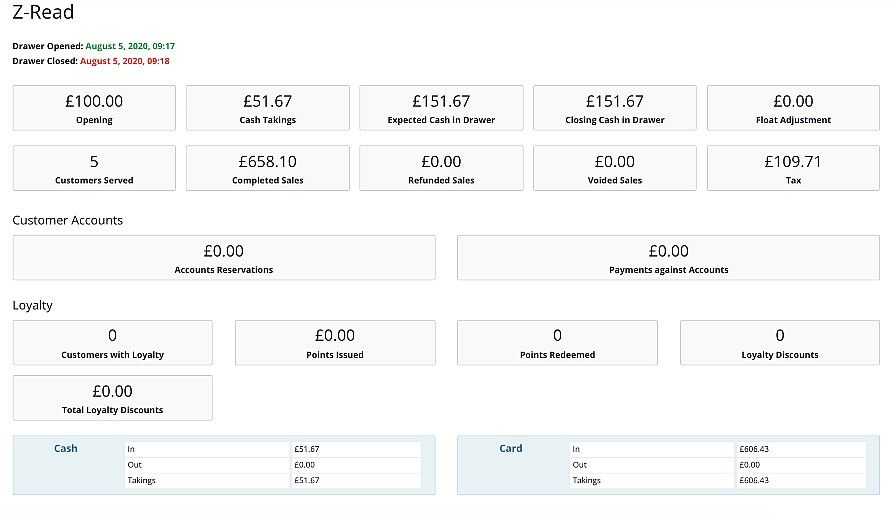 If you scroll down that screen you'll see the details of any float adjustments you've made in the course of the day whether you've used petty cash for sundry expenses or added change.

You will see also a list of every transaction made on that specific date, what employee processed the transaction, what location it was processed in and an array of other useful sales information including the time of the transaction and it's status (Complete, refunded, Exchanged, Void or Parked).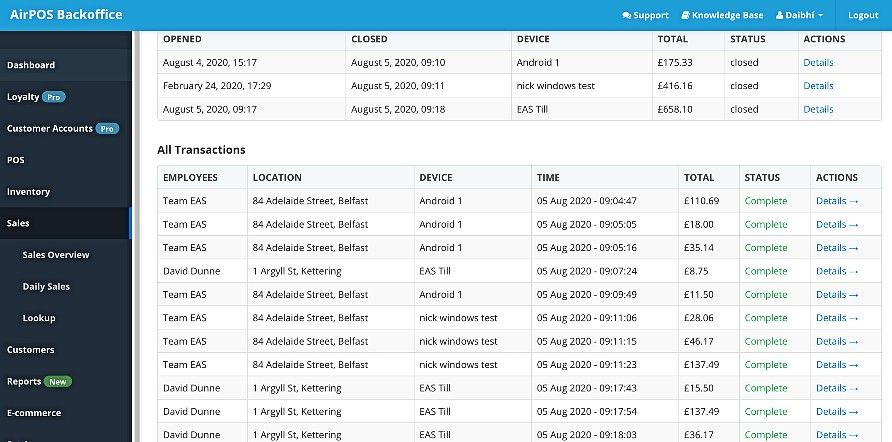 If you want more granular information on a specific transaction, clicking the 'Details' button beside each entry will then display all of the relevant sales information for that specific transaction, what items were sold as part of that transaction and how the transaction was tendered. This is where you'll see any discounts you've made, any notes you may have added during the transaction and your customers name if you've assigned the transaction to a customer.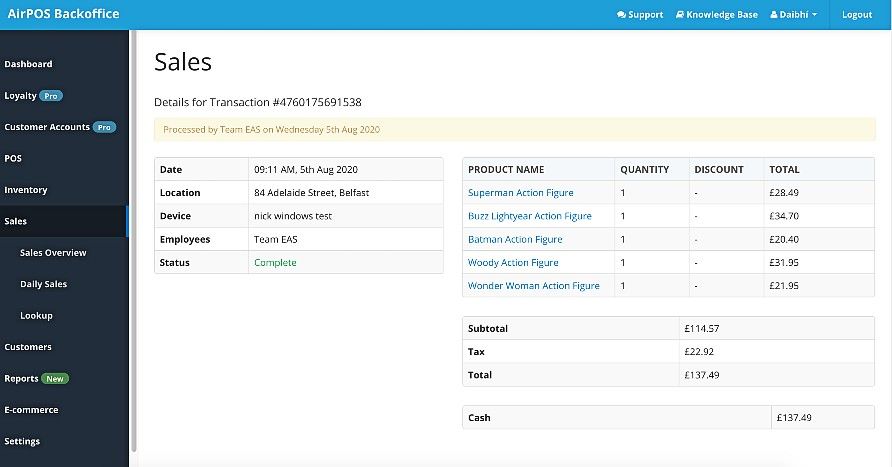 Exporting Individual Line Sales
A simple export facility is available for exporting daily sales totals, individual line sales and sales by tender type for each month.  These exports can be opened in a spreadsheet for use in your accounting package such as Quickbooks, Xero or others. To export daily sales simply navigate to the month you wish to export your sales for by clicking the 'Next' or 'Previous' button at the top of the calendar view of your sales. Scroll to the bottom of that screen and you'll see something like the view below.