What are Product Variants?
Let's say you have a range of t-shirts. They are all t-shirts but they vary in size, colour or style for example. In AirPOS, both on the POS and for AirPOS e-commerce, you will want to create a range of this type of product for example a small, red, skinny fit t-shirt or an XL, blue t-shirt. Our product variants feature will allow you to quickly and simply generate a range of products from a Master Product.
Automatically Generating Product Variants in AirPOS
The first step is to create your 'Master Product'. Click or tap on 'Inventory' from the left-hand menu of your Backoffice and your entire inventory will be displayed. At the top right you'll see a button called 'Create New Product'.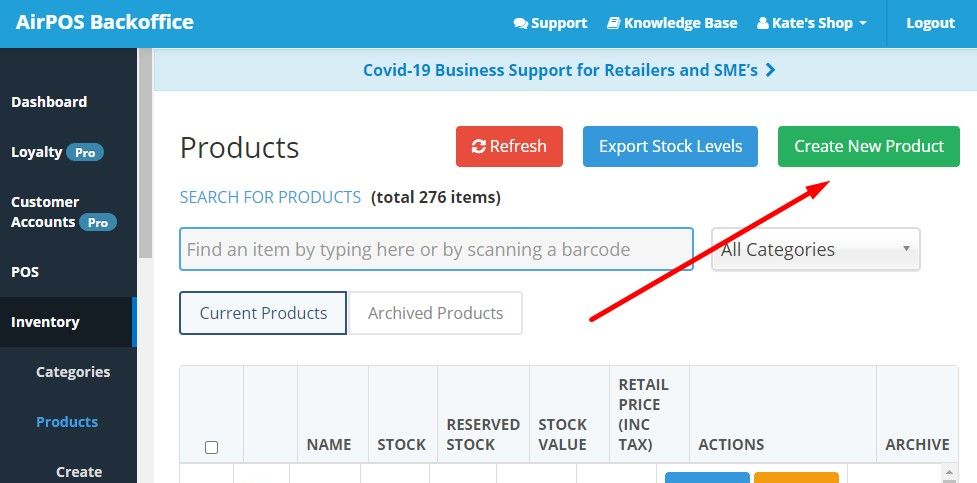 The 'Create New Product' screen will appear. Here you name the Master Product (eg T Shirt), enter it's cost and retail prices, select the tax rate and assign it to a category.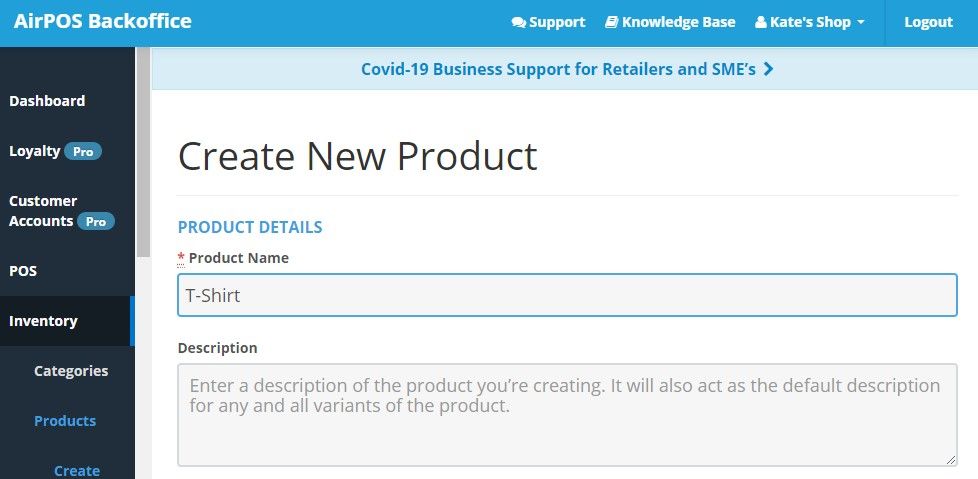 You can add an image here for your master product. This image will be the default image for any variants for which you don't upload an image.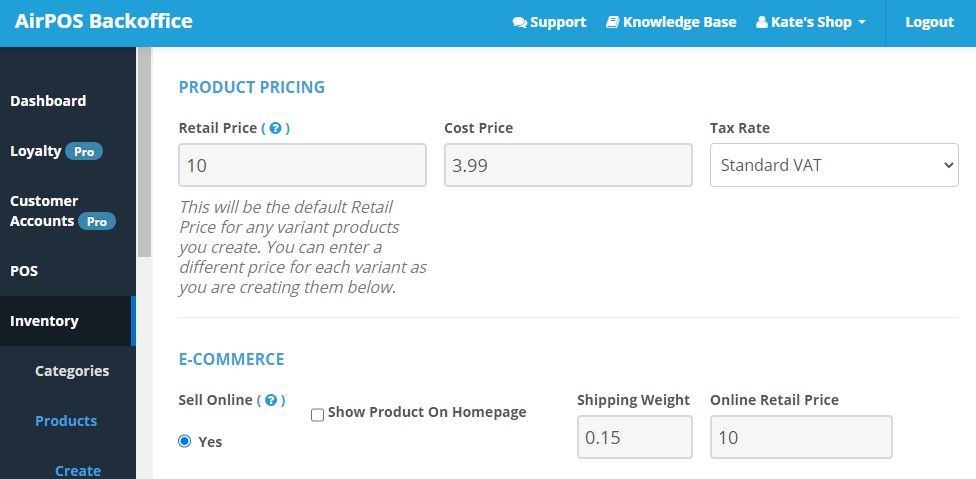 If you scroll down the screen you'll see a selection button for "WILL THIS PRODUCT HAVE ANY VARIANTS?". Set this to 'Yes'.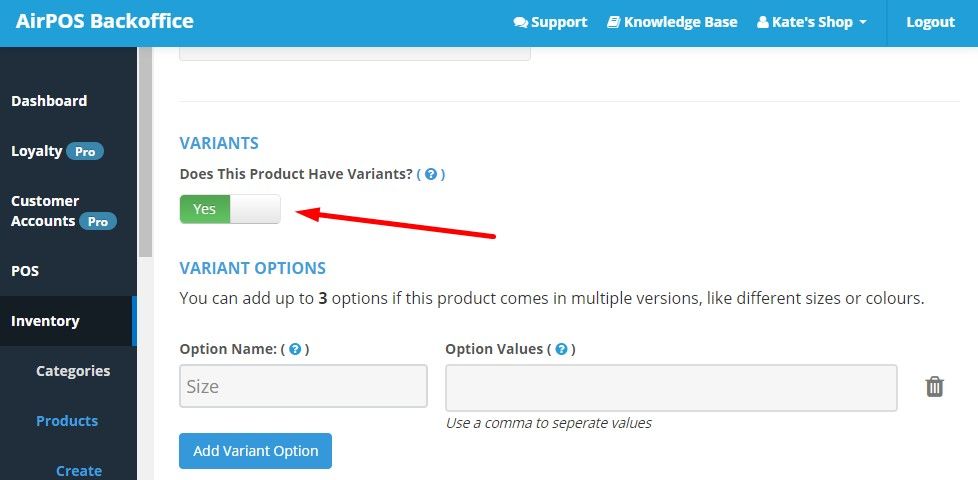 Now you can start adding the variants. In this instance we've created a Master Product called 'T-Shirt' in the parent category of 'T-Shirt'. We're going to make variants of this product based on size and colour. You can have up to three types of variants so another could be 'Material'. After you've typed the size variant add a comma and the variant will be created. Do the same when typing the colour variants and all other variant types you wish to create.
AirPOS will automatically generate a range of variants based on the types you have inputted, up to 100 products at a time. Now you can add a SKU and a barcode for each variant.
In this example there are 3 size variations and 7 colour variations so you'll have a total of 21 variants. When you've completed entering barcodes and SKUs tap on the 'Create Products' button at the bottom of the screen.
Once you've created your product you can add an image for each variant.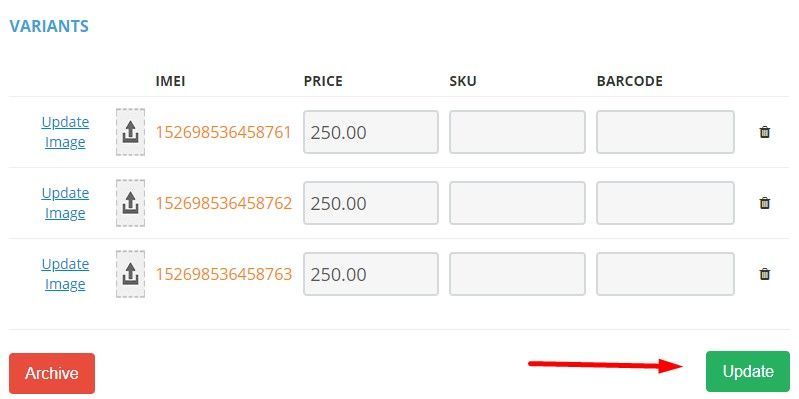 You'll need to upload and save each variant image individually.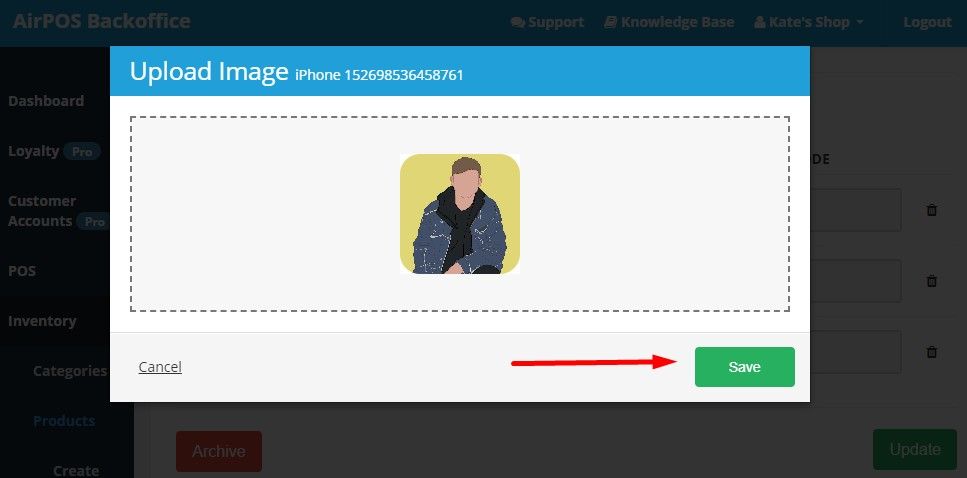 Once all of your images have uploaded tap on the 'Update Product' button at the bottom right of the screen as shown below.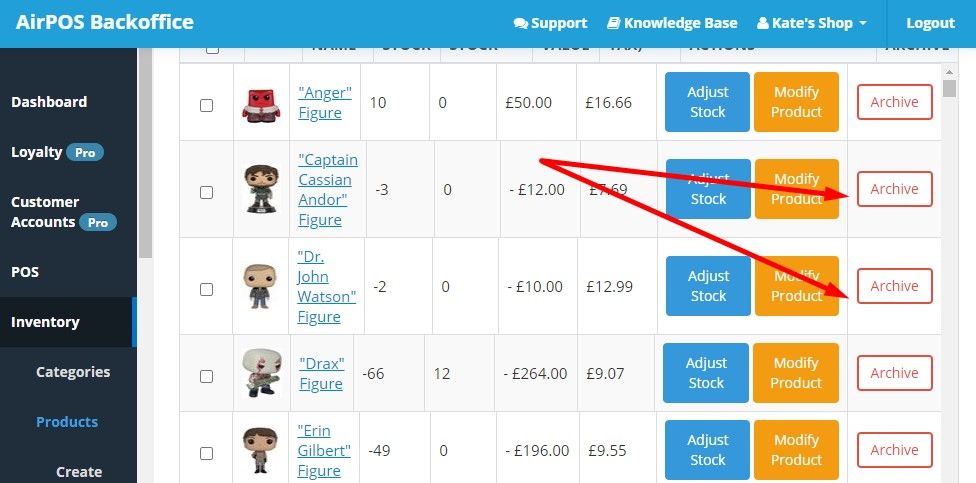 Stock is added to each variant in the same manner as adding stock to individual products without variants by updating the stock quantities in the backoffice one by one or by using the stock input template. Please see the following articles.
Updating the Stock of Individual Products
How to Update the Stock of Multiple Products
Modifying and Removing Variant Products
Your variant products can be modified only in that their Retail Price, Stock Keeping Unit (SKU) and Barcode may be changed or the variant can be removed entirely from your inventory. A variant cannot be archived. If you go into your inventory screen you may notice that the 'Archive' button to the right of each variant is blurred and only simple products without variants have that 'Archive' button enabled.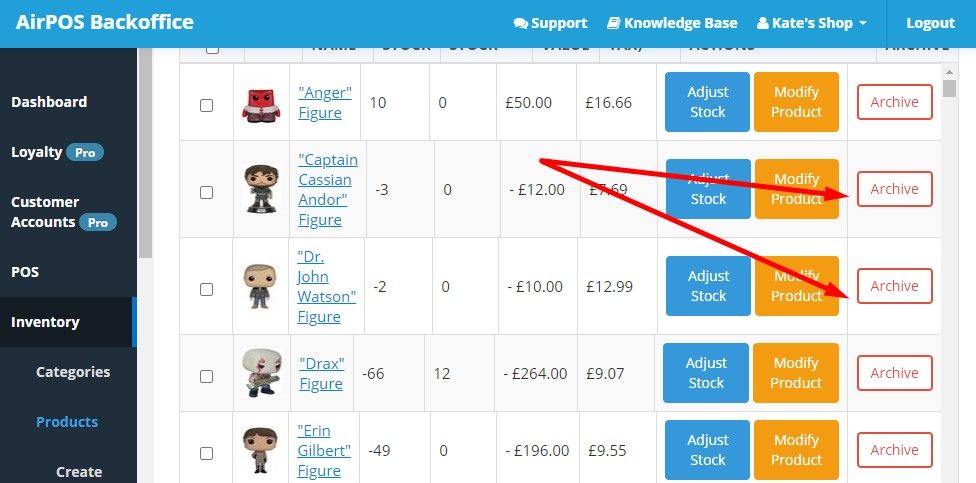 To access the 'Editing Product' screen you can tap on any  'Modify Product' button to the right of the product variant.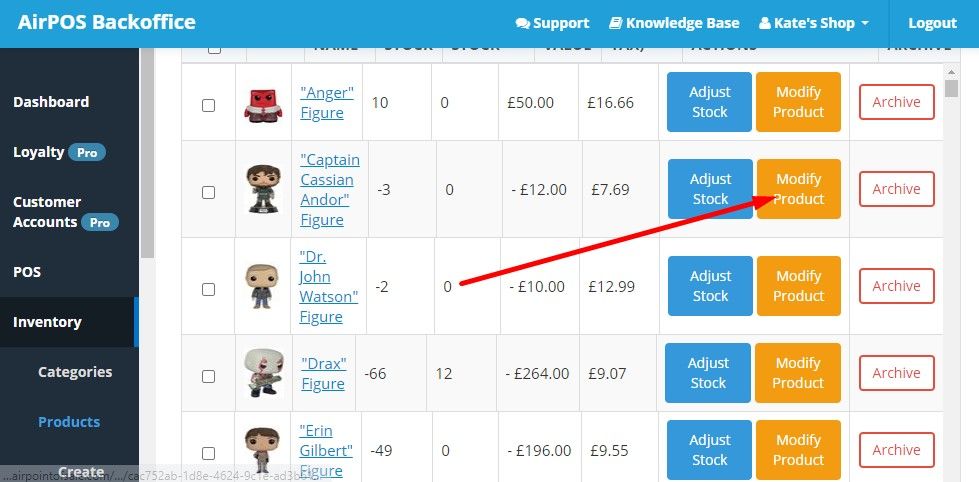 You can also access the 'Editing Product' screen by locating the master product in it's category under 'Inventory' and clicking on the master product's name.
In the 'Editing Product' screen you can edit the retail price, SKU and barcode of a variant and you can delete a variant.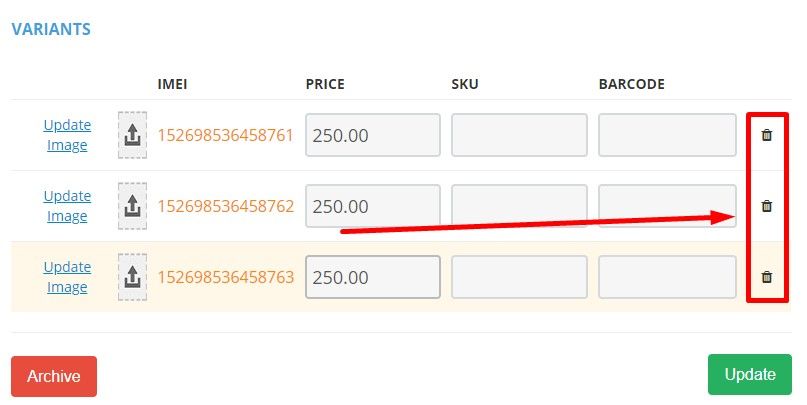 In the 'Editing Product' screen you can archive the Master Product.