Uploading Images for your Products.
If you plan on selling products online it is important that you upload some images so that they will appear on your AirPOS Webstore. They can also be a valuable visual aid when using 'Item Lookup' on your POS.

There are two ways of doing this.

Individually, item by item. To do it this way click or tap on 'Inventory' from the left margin of your backoffice and scroll through your product list or search for the item you wish to add an image for or search for it be product name or barcode in the search box at the top of the inventory screen. To the right of the item you'll see an orange 'Modify Item' button. Tap on that and scroll down form to the 'Item Images' section.

Click on the 'Choose File' button
Browse to find the image on your computer
Select an image to upload
When you've selected the image file scroll down the form and press the green 'Update Item' button to save your selection.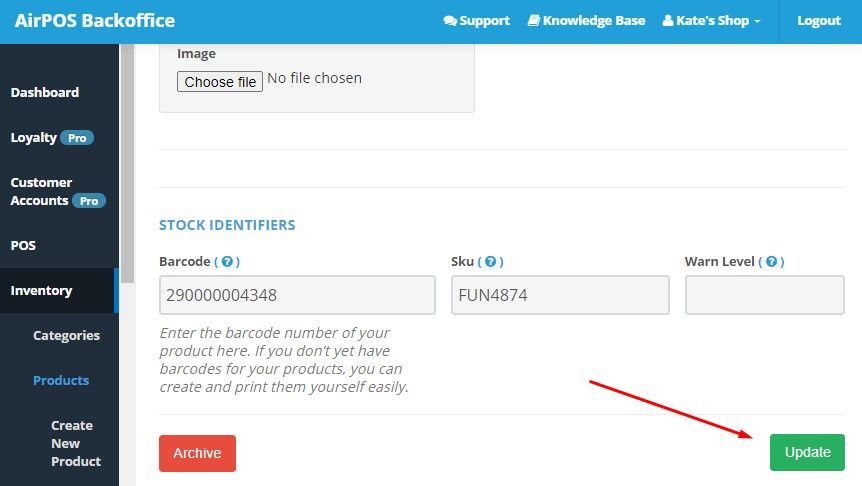 The other way is by using the item import template file that we provide under 'Inventory > Import' items from the left margin of the back office. The last field in the file before the stock quantity and low stock warning level fields is where you can enter the image URL for the image.
You should copy and paste the image URL into a browser to ensure that it is a valid one. You'll notice beside the 'Image URL' field a 'Description' field. You should enter a brief description of your product as this is also visible in your Webstore.
NOTES: if you have uploaded an image in error simply click on the 'Choose File' button and select the correct image. In addition to this images should be resized prior to uploading if they are very large in file size, as uploading very large images will be slow and error prone in AirPOS as it would be in any browser-based system.  We also recommend that JPEG, PNG or GIF formats are used as they are best for displaying on the web .
AirPOS automatically creates thumbnails of your images and resizes them to a size suitable for use on your web store. However we recommend that images are a minimum of 500 pixels wide prior to uploading to ensure they display correctly and are not 'upscaled' by your web store as this will cause blockiness and blurring of the images. When you have selected the images for your item, please click 'Save Item' at the bottom of the form to submit this item to your inventory, and if 'Sell on Web Store' was selected as a yes the item will also be added to your web store.
Images will only appear on the POS when you use the Stock Check function.