Adding Products to sell via AirPOS e-commerce.
You'll need to add products to your AirPOS account to sell online.  This is exactly the same as adding products to sell in your bricks-and-mortar store.  Here's how to add your products to AirPOS.
To sell your product via AirPOS e-commerce, simply select "Sell Online - Yes" when creating or editing the product.

To use AirPOS e-commerce you will also need to add an image for the product on this page, as well as description of your product.  These will be shown to on the product's page on AirPOS e-commerce.  This can be edited at any time.
If you're using our Import Products tool, and uploading products via .csv, just be sure to pay special attention to the following fields where you create your item initially, highlighted in yellow.
If you plan to sell the item on-line that field needs to be set to 'Y' and your Web Price which will default to your Retail Price unless you want to sell this item for a different price on your e-commerce site.

Choose your .airpos-webstore.com domain or setting up a custom domain name.
If you tap on 'E-Commerce' in the left panel of your backoffice you'll see the following screen: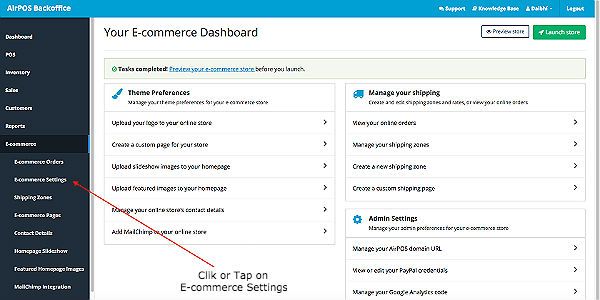 Below E-Commerce you'll see 'E-commerce Settings'. Tap on that and you'll see a screen similar to that below.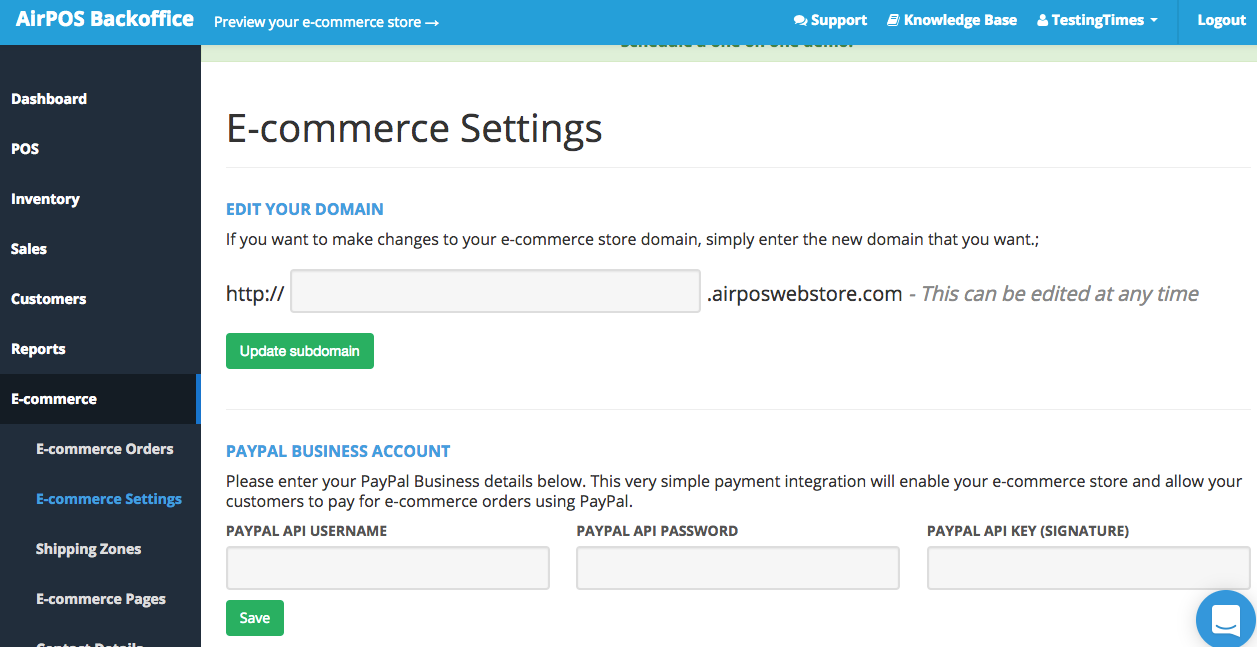 You can just use your company name for your Domain name.  Alternatively, you can assign your own custom domain that you purchased from a provider.  Here's how to do that.
If you are going to use our free.airposwebstore.com domain, Your Domain name can be anything but you'll probably want to use your company name as shown above as long as someone else hasn't already taken it.
If you don't want to use our free .airposwebstore.com domain, one of our friendly support team will help you setup your own existing domain name.  Just email support@airpos.co.uk, or chat with our team via the chat function on this page.
Setting up your PayPal Account Details
This very simple payment integration will allow your customers to pay for web orders using PayPal. In order to enable your AirPOS web store you need to have PayPal operable as a payment processor in order to accept customer payments.

You will need a free PayPal Business account to do this. To sign up for a PayPal business account (if you do not already have one) please visit: http://www.paypal.co.uk
To set up PayPal Checkout to take payments online using your account tap or click on 'E-commerce' from the left margin of the backoffice and then select 'E-commerce Settings' as seen below.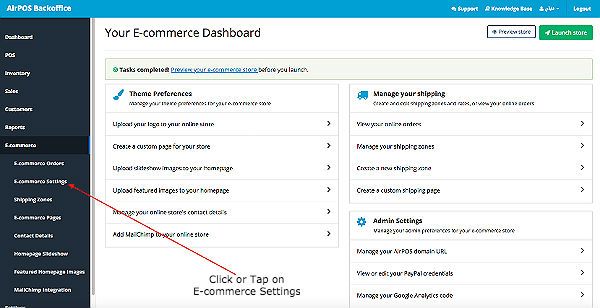 In the 'E-commerce Settings screen tap on the 'Setup PayPal Now' button.

A popup will appear for you to login to your PayPal account. Enter your email address for your PayPal account, select your country and tap or click on the 'Next' button as shown below.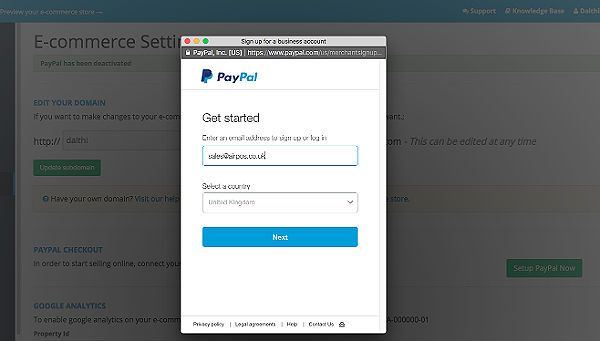 You'll then be asked for your password.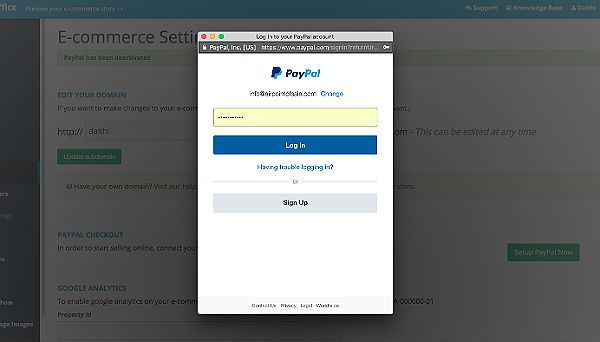 If you then tap on the login button the popup will change to say that "AirPOS Ltd needs authorisation to use your API credentials so it can integrate with PayPal. By authorising this, AirPOS Ltd will be able to process payments securely on your behalf". Tap on the 'Yes, I authorise it' button.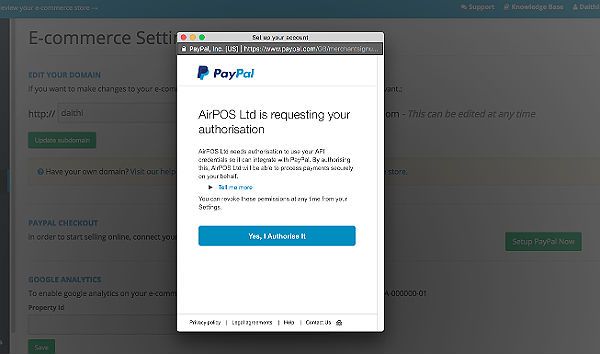 The popup will change to say success.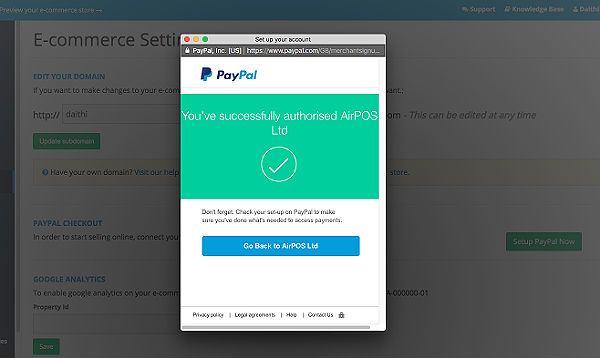 Tap on the back to AirPOS button and you'll see that the screen has changed to show your PayPal API Credentials with a button to disconnect from PayPal.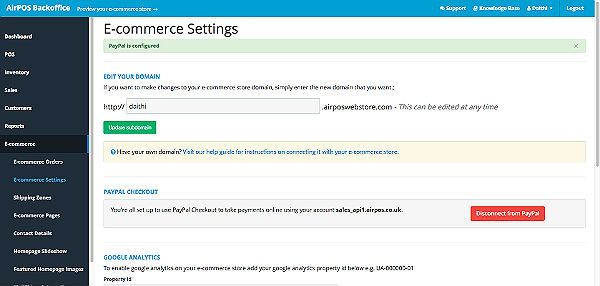 And that's your PayPal account linked to your AirPOS e-commerce Webstore.
Enabling your Location to Accept E-commerce Orders
Finally you need to enable your locations to be able to sell on the AirPOS e-commerce site. Click or tap on 'POS' from the left margin of your backoffice and select 'Locations'.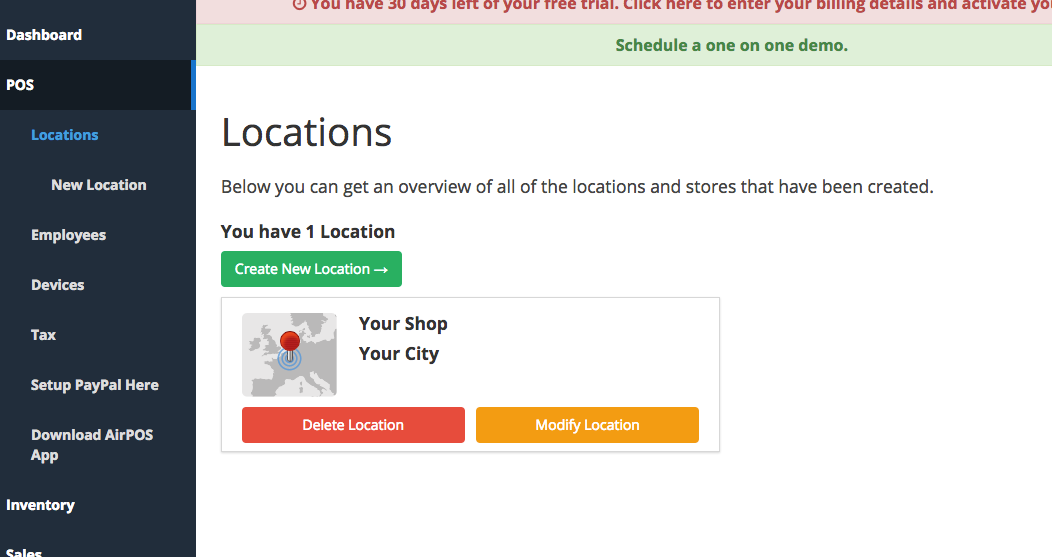 For each location from which you intend to ship online orders, click or tap on the 'Modify Location' button and select 'Yes' for "accepts web orders.", then click "Update Location" to save.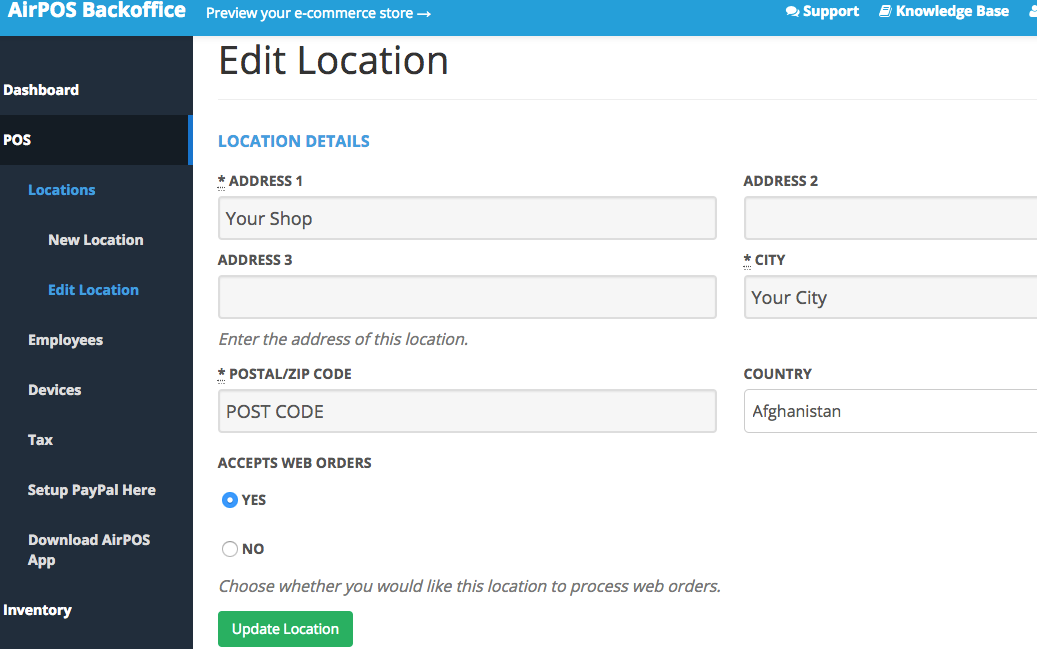 You can preview your Webstore at any point by clicking or tapping on the preview link at the top right of any screen in the backoffice as shown below.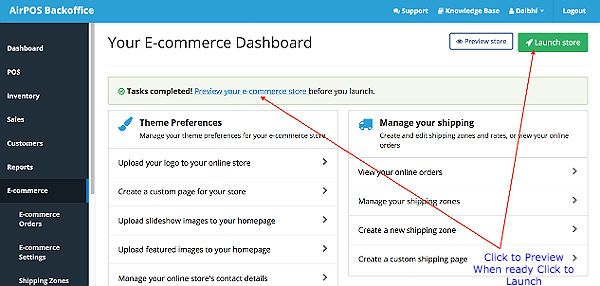 You can view your e-commerce webstore as you add images and products in this manner.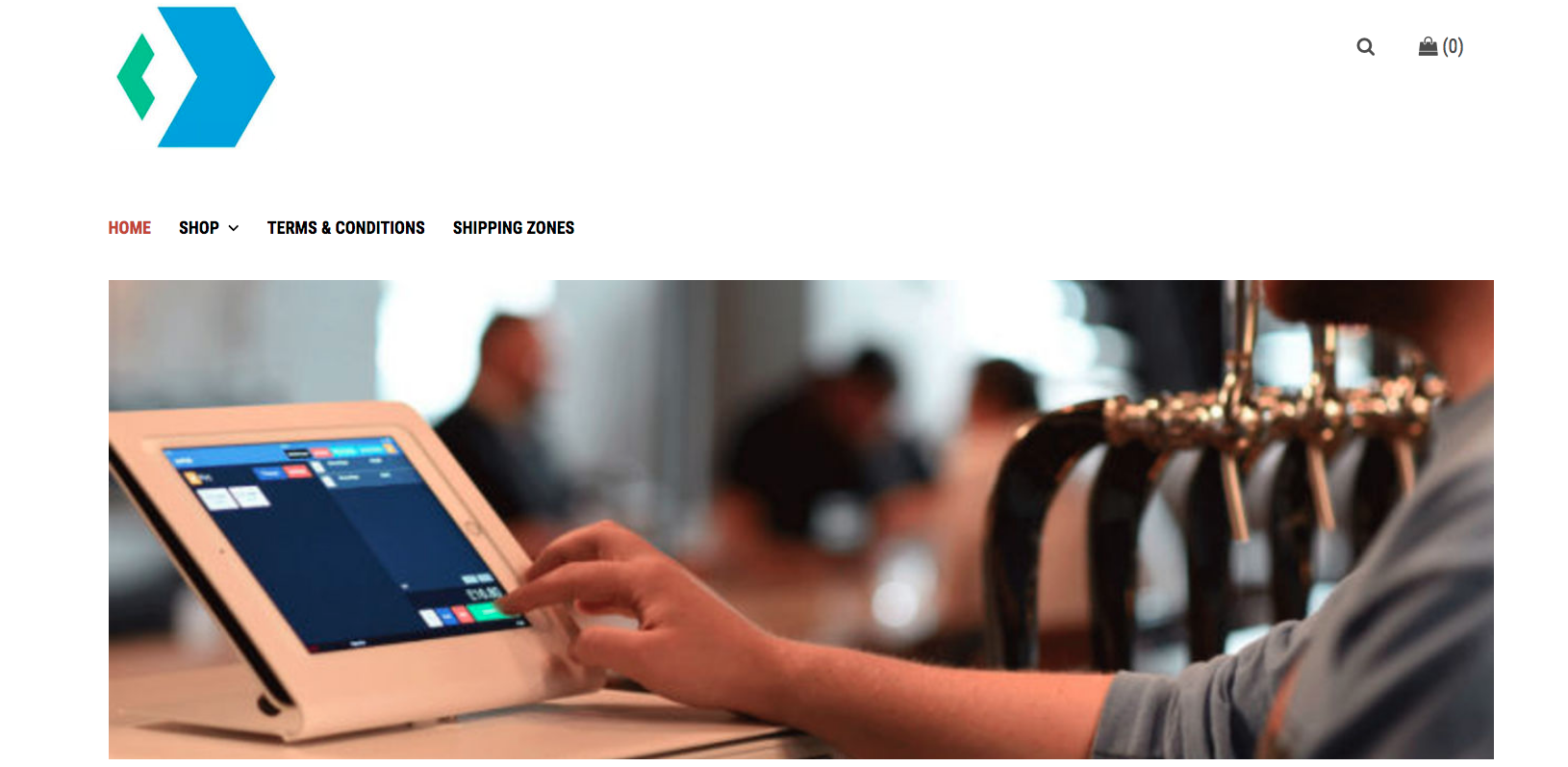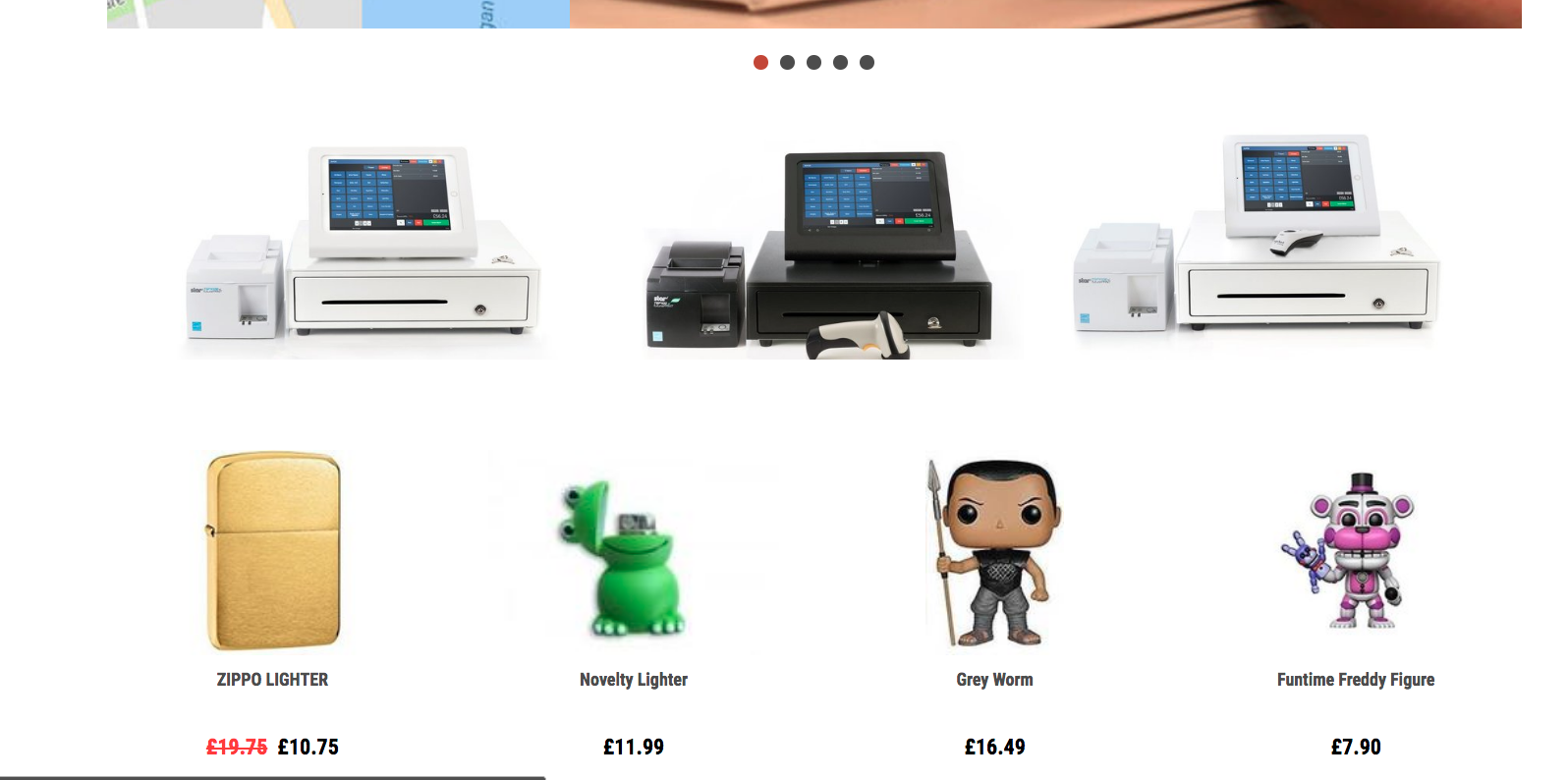 When you are ready the last step is to launch the Webstore which you do from the backoffice. Select 'E-commerce from the left margin of the backoffice and you'll see a link at the top right of the screen as shown below.