Setting up Google Analytics on your AirPOS e-commerce site
Google Analytics is a free service offered by Google that generates detailed statistics about a website's traffic and traffic sources and measures conversions and sales. It's the most widely used website statistics service for e-commerce and is now available for your AirPOS e-commerce site!
Firstly create an account at the following link.

http://www.google.com/analytics
You'll see a screen similar to that in the image below. if you already have a Google account press the 'Start for free' button or tap on 'Sign in to Analytics'.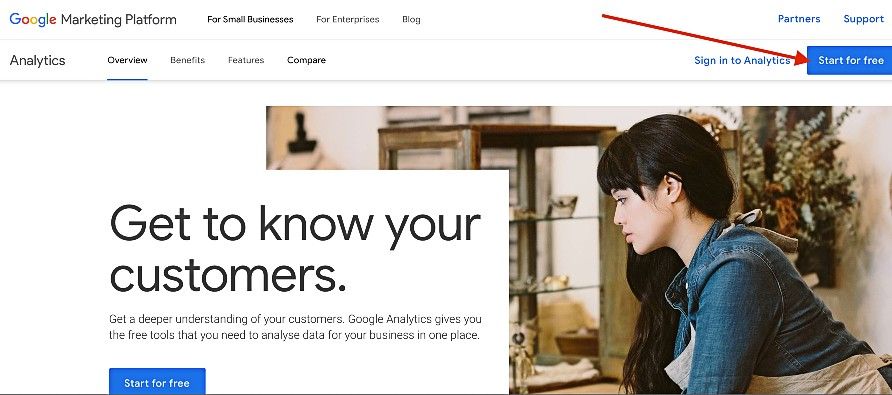 When you sign in you'll see a similar screen to that below. Click on 'Admin' from the menu on the left as seen below.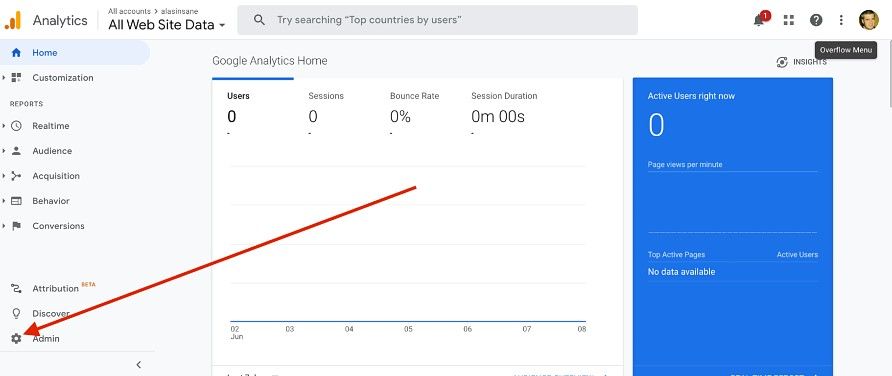 You'll see a similar screen to that below. In the User column, click Create Account.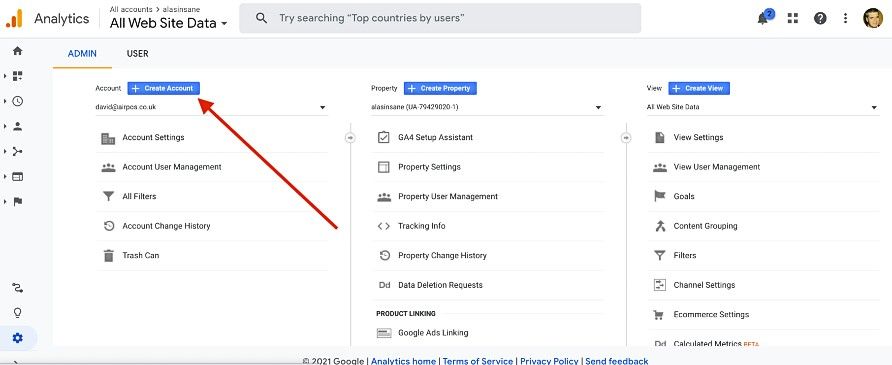 Provide an account name. Configure the data-sharing settings to control which data you share with Google. For this explanation this is a test account called 'Daithi' which is what the account name has been named for analytics and the defaults have been left for data sharing.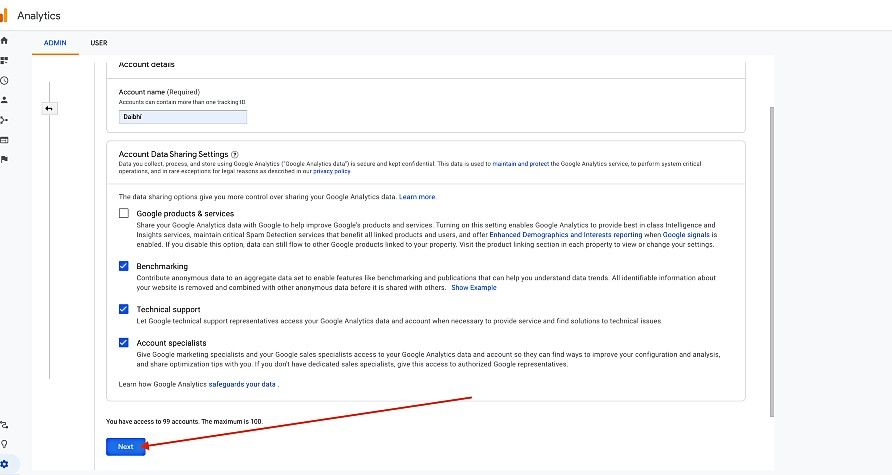 Click 'Next' to add the first property to the account. In the 'Property name' field enter your domain name. For 'Reporting time zone' select from the dropdown list. In this instance the time zone is United Kingdom GMT. If a visitor comes to your website on a Tuesday in their time zone, but it's Monday in your time zone, the visit is recorded as having occurred on Monday. If you choose a time zone that honors Daylight Savings Time, Analytics automatically adjusts for time changes. Use Greenwich Mean Time if you don't want to adjust for Daylight Savings Time.
Changing the time zone only affects data going forward. If you change the time zone for an existing property, you may see a flat spot or a spike in your data, caused by the time shift forwards or backwards, respectively. Report data may refer to the old time zone for a short period after you update your settings, until Analytics servers have processed the change.
Select your currency from the dropdown list and click on 'Show advanced options'.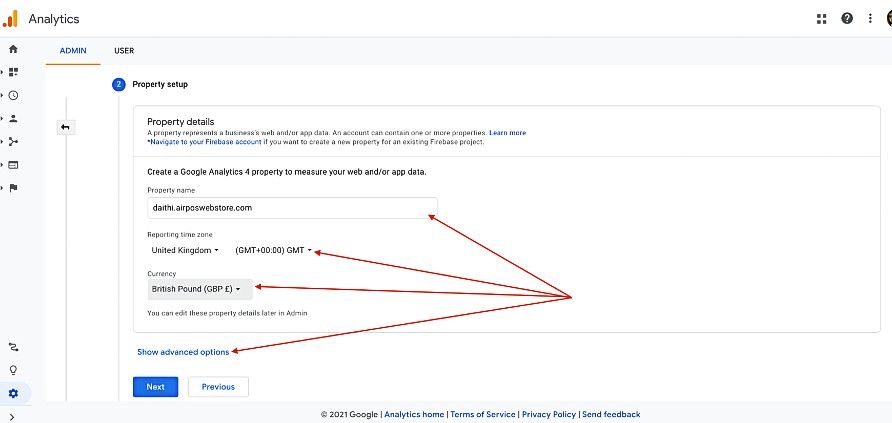 Turn on the switch for 'Create a Universal Analytics property'.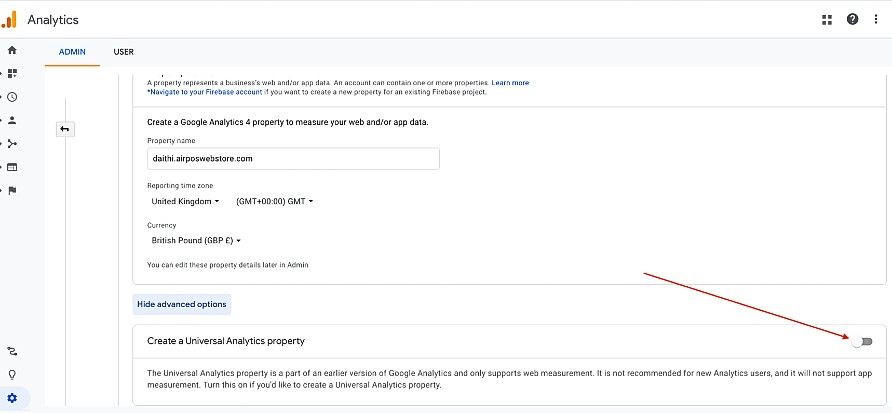 Enter the website URL. Select the protocol (http or https).
At this point, choose to create
Both a Google Analytics 4 property and a Universal Analytics property. This option
Sets up a parallel Google Analytics 4 property that collects data alongside your Universal Analytics property. Once you add the tag for the Google Analytics 4 property to your site, data will be sent to both properties.  You can switch back and forth between properties using the property selector or Admin screen.
Establishes a connection between the two properties that allows you to migrate configuration settings from your Universal Analytics property to your Google Analytics 4 property later on.
Click 'Next'.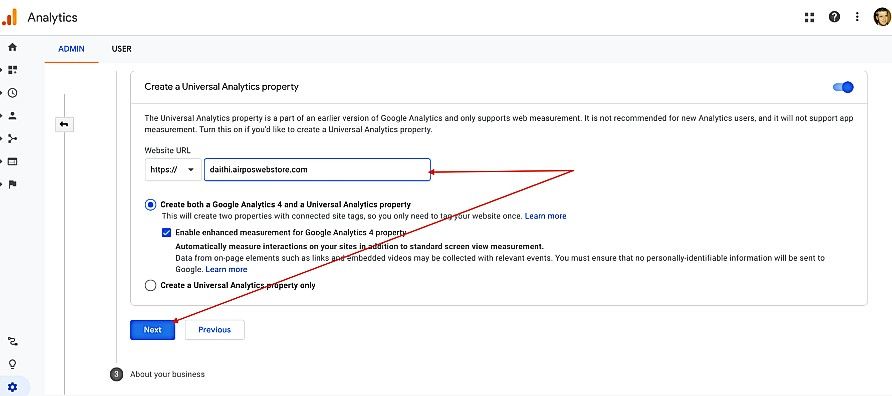 You'll see a screen similar to the image below. Provide information about your business. Click Create.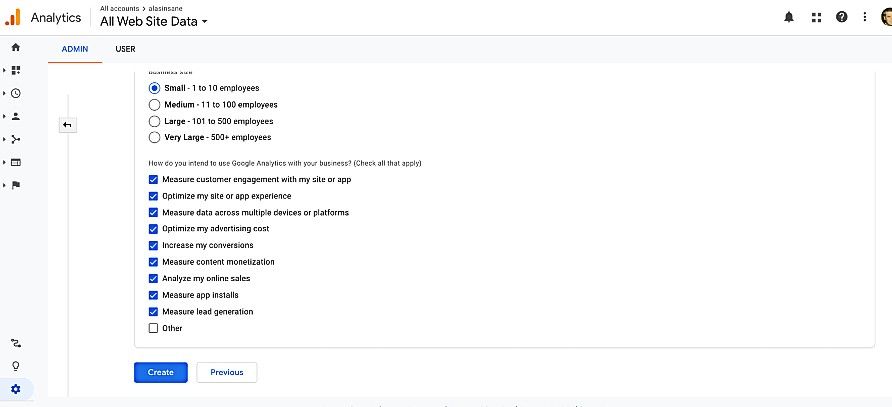 If you now click on the Admin button at the bottom left of the screen and in the 'Property' column click on 'Property Settings' as shown below...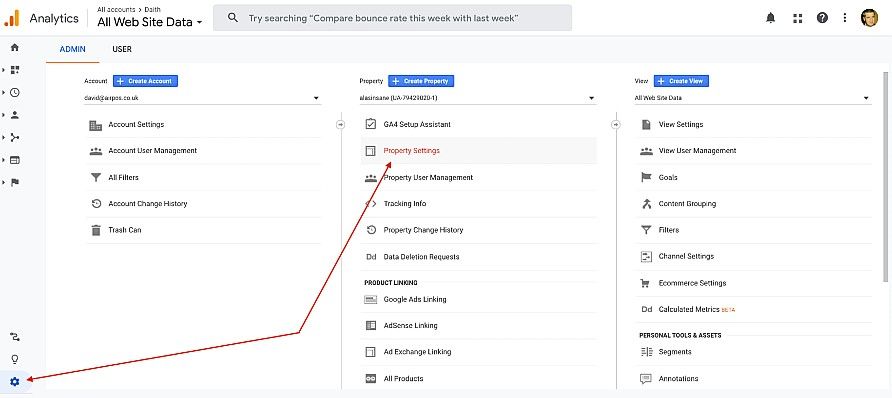 Your "UA-" tracking ID and Default URL will be displayed similarly to the image below. These are going to be copied and pasted into E-commerce Admin Settings in your AirPOS backoffice.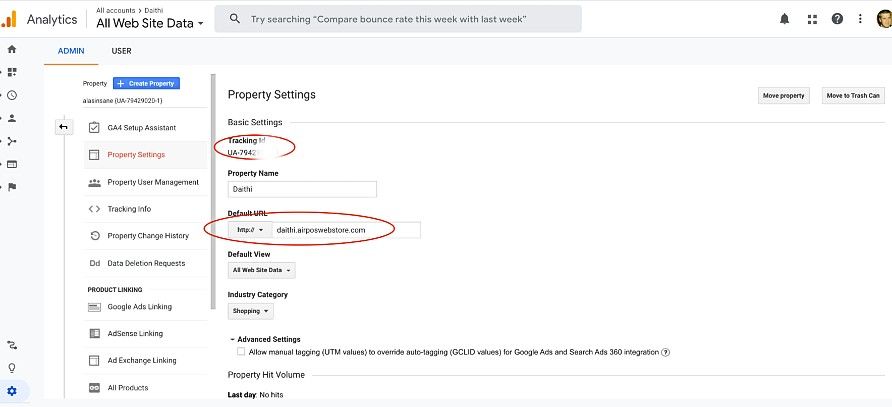 In your backoffice select 'E-commerce' from the menu on the left and click on 'Manage your Google Analytics code' as shown below.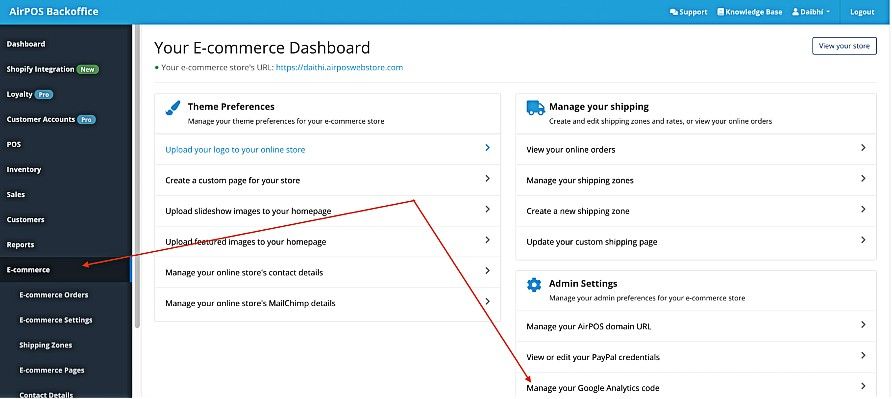 Copy the "UA-" tracking ID and Default URL and paste them into the appropriate fields as shown below.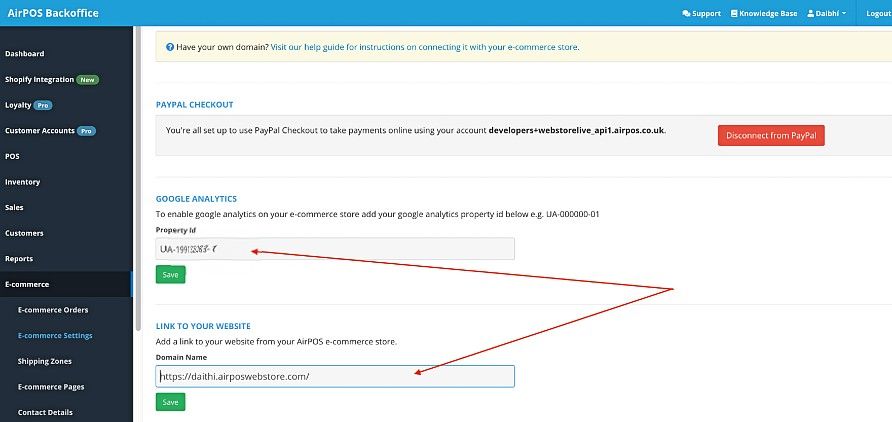 In your Google Analytics if you click on 'Realtime' from the menu on the left you can check that this is working. It will show any visitors and should show at least one, being yourself as you will be logged in and viewing your webstore..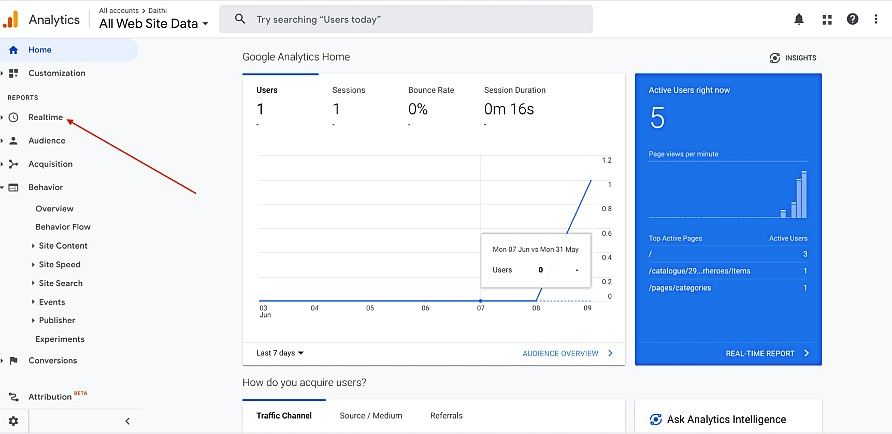 The tracking code snippet for your website is displayed under Website tracking.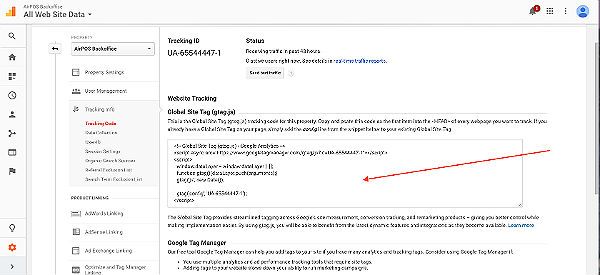 Copy and paste this code as the first item into the of every webpage you want to track. If you already have a Global Site Tag on your page, simply add the config line from the snippet above to your existing Global Site Tag.

And press 'Save'. To view the traffic on your AirPOS e-commerce site simply login to Google Analytics.