1. Charging/Battery LED
2. Good Read LED
3. Data LED
4. Scan/Power Button
5. Delete/Reset Button
6. Function Button/Function LED
7. Micro USB Port
8. Product Label
9. Scan Window (Remove protective sticker before use).
Hold down the Scan/Power button (4) for three seconds to power on and press to scan barcodes.
Delete/Reset Button + Function Button (5 & 6). Press  the  two  buttons  at  the  same  time  to  unpair the  paired  Bluetooth  device  from  the  scanner while  in Bluetooth mode and to make the scanner discoverable by other Bluetooth devices.  The scanner will emit a series of beeps and the function light (6) will slowly blink blue indicating that it is ready to pair.
Connecting the Scanner.
When the scanner has charged power it on by pressing and holding the scan button for three seconds. The function button near the bottom of the scanner will slowly blink blue indicating that the scanner is in Bluetooth mode and ready to pair.
Open the Bluetooth settings on your iPad. After a few moments you'll see a popup with a pairing request for the 'BS80+xxx' (xxx being the last three digits of the scanner's serial number). Press the 'Pair' button on the iPad popup. The scanner will make three beeps and the function button will turn solid blue.
If you are having trouble pairing the scanner or if it has been previously connected to another tablet or device it may be necessary to reset the scanner. This can be done by scanning the barcode below off the screen.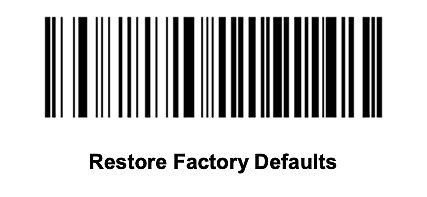 Once the scanner has paired with your iPad scan the barcode below, if successfully scanned it should beep three times. If the scanner won't scan the barcode off the screen it may be necessary to print off the barcodes below but the Newland scanner will scan off most screens.

​
Once you've scanned the 'Enable Terminating Character Suffix' barcode you'll then need to scan the 'Terminating Character 0x0D (CR) barcode below:
These barcodes can be printed off on a conventional office printer from the link below
Newland Scanner Firmware Barcodes
Your scanner is now ready to use with AirPOS.
NB: The scanner will power off after 30 minutes of inactivity or you can turn it off by scanning the 'Power Off' barcode on page 2 of the Quick Start booklet that comes with the scanner.