If you've decided that you'd like to sell online and you've been using the AirPOS POS application it may be that most of your products have not been enabled to sell online. Rather than have to edit the attributes of the products one by one we have a tool which will allow you to do this all in one go.
**Important Notes**
This feature allows you to edit products that *already exist* in AirPOS.  If you're adding brand new items, please use our bulk importer.
If you have barcodes in your file and you use Excel as your spreadsheet package Excel WILL strip off leading zeros and reformat large numbers. You should not simply double click on the downloaded file to open it in Excel but import the file into Excel and define the barcode field as a text field. You should do this even if you are not changing your barcodes. Please look at the following article to see how this is done.
Under Inventory in the left margin of the backoffice you will find the 'Bulk Edit Products' button as seen below.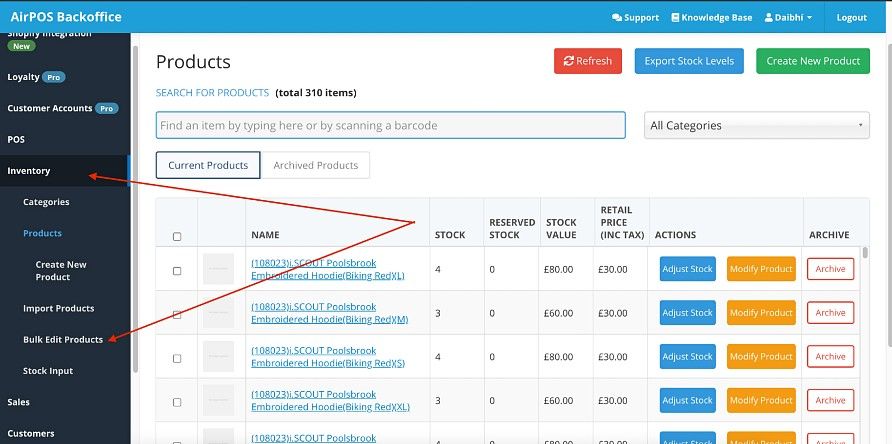 When you tap or click on that you'll be brought into the 'Bulk Edit Products' screen. From there, in the top right you'll see a button to 'Export Item Data'. When you press that your inventory will be downloaded as a .CSV file which you can open and edit in any spreadsheet programme or upload to Google Sheets if you use online programmes. Please note that each time you want to perform bulk edits you will need to download this CSV as item's properties may have been changed through the backoffice and your new export needs to reflect these changes. Also it is not good practice to be using the backoffice to manually update items for example whilst performing a bulk edit at the same time.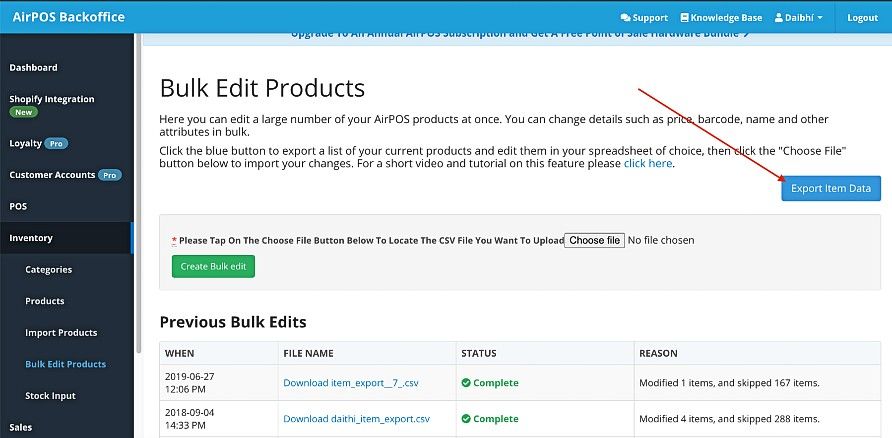 When you open that you'll see that there are ten columns. The first is a unique reference assigned to each of your products by AirPOS for stock and inventory management purposes. The last is a Checksum column used to validate the input file.
NOTE: It is very important that neither the checksum nor the AirPOS reference are changed as this will really make a very large mess of your AirPOS account!

The other columns can all be edited and appear in the order below.

AirPOS Reference | Name | Cost Price | Retail Price | SKU | Barcode | Description | Sell Online | Web Price | Checksum .

You can change any of these attributes except the AirPOS Reference and the Checksum. In order to enable your products to sell online click in one cell of the Sell Online column and change the 'N' to 'Y'. If you hover the cursor over the bottom right corner of the cell the cursor arrow will change to a cross hairs and if you hold down the left button of your mouse you can drag the contents of that cell through the cells below.

Once you've completed the changes to the file save it and go back to the 'Bulk Edit Products' screen. Click in the 'Choose file' box and select the file you've just created then click or tap on the green 'Create Bulk Edit' button as shown below.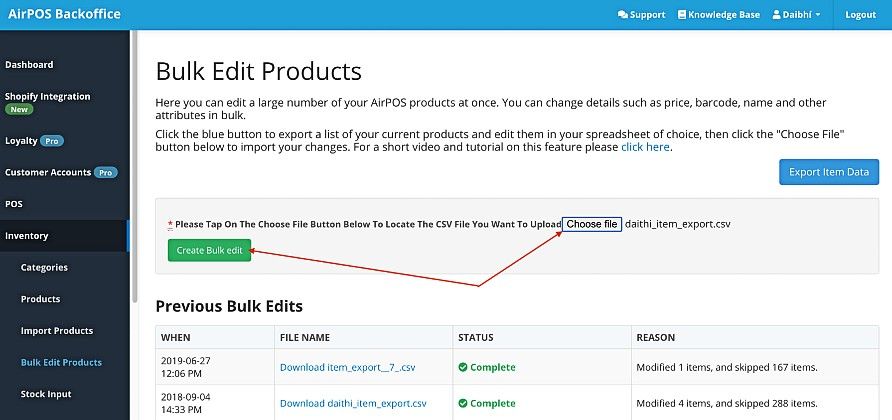 Once the edit has completed you'll see the status has changed to 'Complete'.