AirPOS data is compatible with all major accounting platforms, as well as Xero.
Processing your sales on AirPOS and storing them in the cloud makes life a lot easier generally as you can access your sales data from anywhere.  However, this also makes it much easier to send that data to other cloud providers. To make accounting for your POS sales as accurate, simple and stress free as possible we have integrated AirPOS with Xero, the world's leading cloud accountancy software for small business.
Accounting Fundamentals
AirPOS is not intended to be viewed as accounting software, we provide a sales ledger on your sales movements as inputted and processed at the point of sale and online. To enable you to account for these sales comprehensively along with your other expenses we have integrated the AirPOS backoffice with Xero so that data will automatically transfer from AirPOS to Xero on a nightly basis keeping your accounts up to date in accordance with the sales that have been recorded on your POS.

Setting up AirPOS to work with Xero
The setup of Xero within AirPOS is very simple, requiring only a few minutes of your time. If you don't yet have a Xero account you can get a free 30 day trial and also discounted pricing by clicking here
Step 1 - Setting up the Integration
Login to your AirPOS backoffice and under the navigation in the left hand side you will see a menu item for 'Integrations'. Click on this and underneath will be another menu item for Xero, click on this also. You'll be taken to the following page: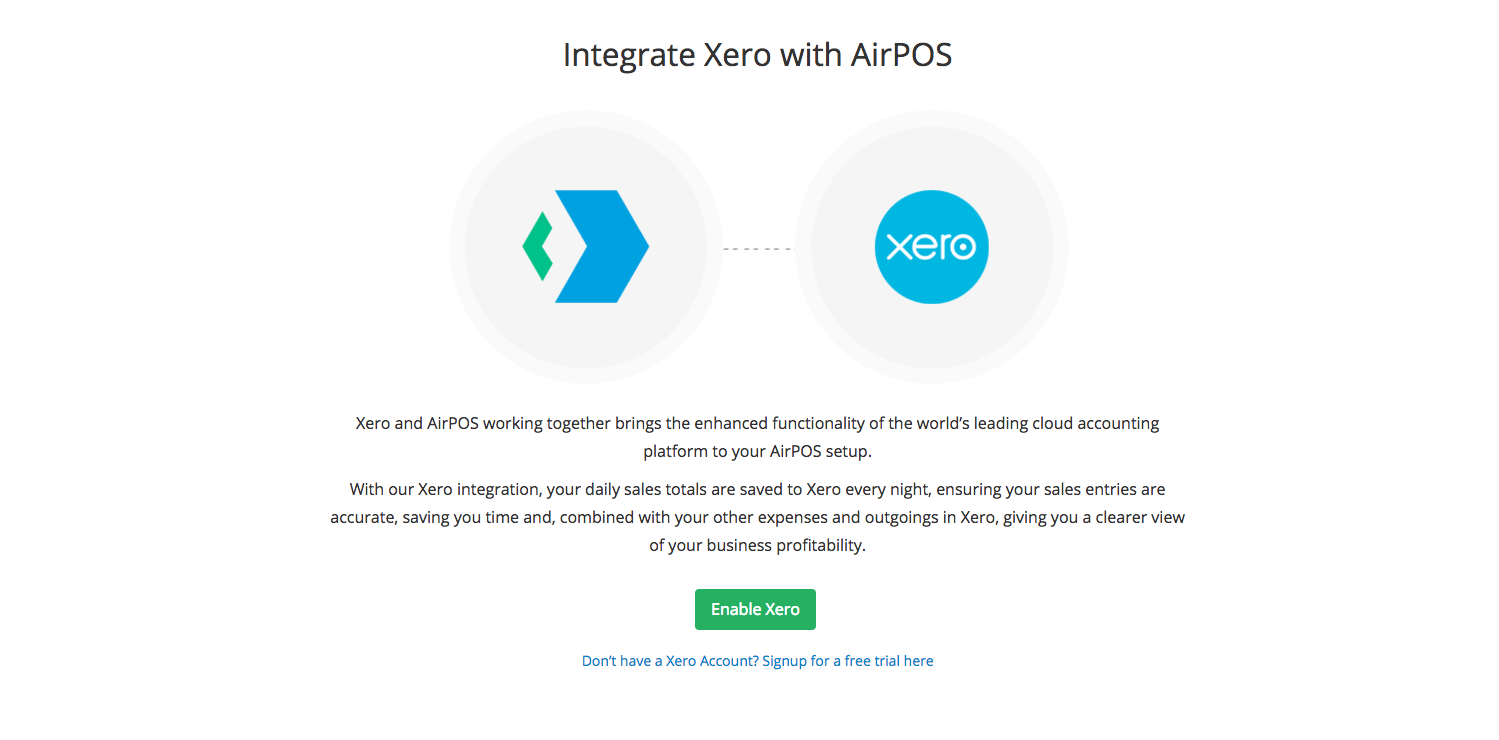 Press the 'Enable Xero' button to progress to the next step in the setup process. You will be redirected to a Xero login page.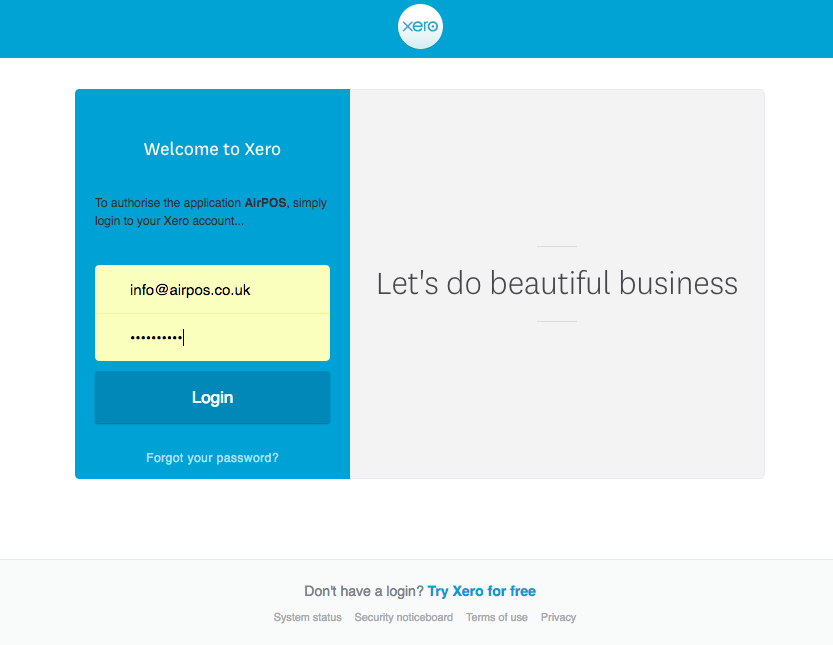 Step 2 - Login to Xero
Next you will see a screen that looks like this: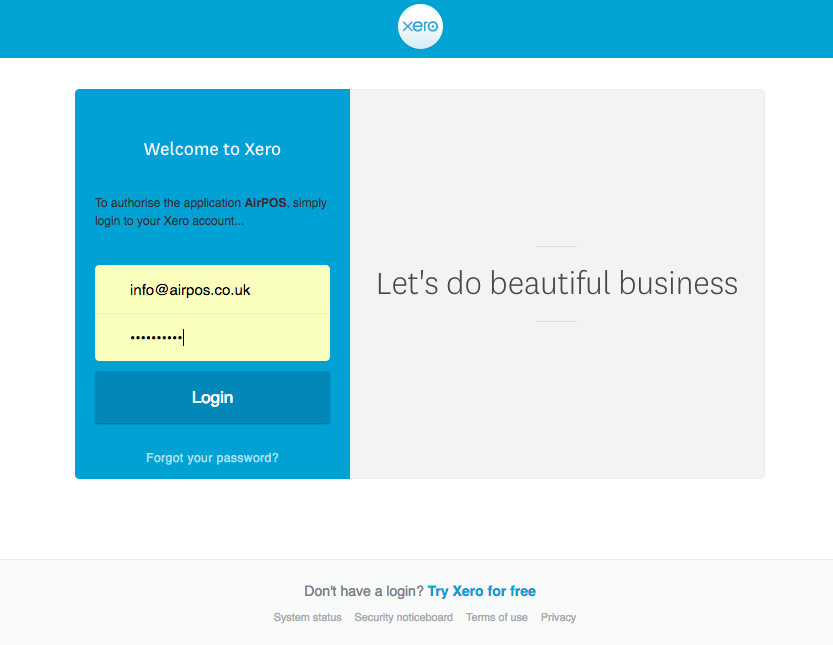 Login to your Xero account as normal. Xero will then inform you that AirPOS wants to share data with your Xero account. Press 'Okay' to proceed.
Step 3 - Assign Your Accounts
The last step of the AirPOS and Xero integration is deciding on a few factors for how data is transferred between your AirPOS account and your Xero account. These factors are:
Settings for when AirPOS will send data to your Xero account - AirPOS will post data to your Xero account on a daily basis, this setting allows you to select the time zone and time that this will happen. We strongly recommend that you set this time outside of your trading hours to avoid any data transport issues.
Chart of Accounts - You will already have a number of account codes setup in Xero that allow you to receive money. The default account code for revenue in Xero for example is 200 - Sales. If you select this code AirPOS will automatically post your sales data as an invoice under this account code once a day. The invoice will feature your sales for that day and any adjustments including your float.
Tax Rates - Finally you will need to match the tax codes that you have defined in AirPOS to the tax codes you have defined in Xero. For example a tax code of 20% VAT in AirPOS would be matched against the 20% (VAT on Income) tax code in Xero and so on. Your sales will be differentiated according to the rates of VAT applied to the products sold. For example you will see total sales of products sold at standard UK rate VAT at 20% and for those such as children's clothing which is rated for VAT at 0%.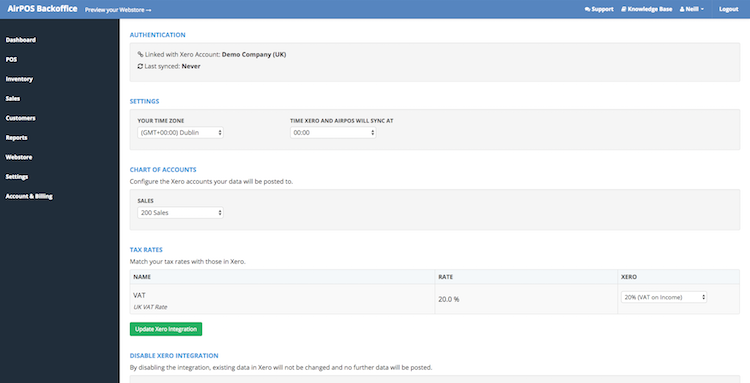 Having completed all of the above steps your AirPOS and Xero integration is now complete!
NOTES
Rounding differences - on some of the invoices created by AirPOS in Xero you will notice that there is a slight difference in rounding. This is due to how we calculate discounts and rounding on partial numbers and in some cases there may not be a whole figure and Xero will display this as a rounding difference to ensure your accounts are correct.
Tender types - Xero will differentiate sales by the rate of VAT applied to the products sold and not according to the tender type used to complete the transactions.
Viewing your draft invoices in Xero.

Having setup your integration of your Xero account with your AirPOS account you'll want to see the results of your efforts. To do this go to www.xero.com and enter your login credentials. You'll see a screen like that below.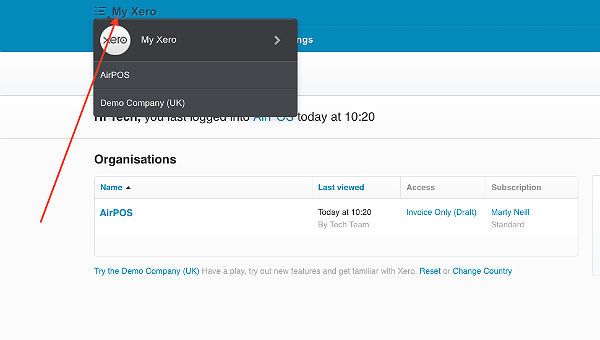 Click or tap on 'My Xero' at the top of the screen to expand the options and then select the account you want to view. In this example we'll be looking at the draft invoices for 'Demo Company (UK)'. The screen will change to one similar to that below.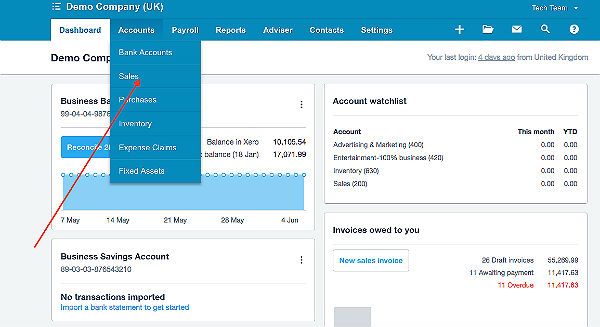 Click on 'Accounts' from the horizontal navigation panel at the top of the screen and from the dropdown list tap or click on 'Sales' and the screen will refresh and look like the image below.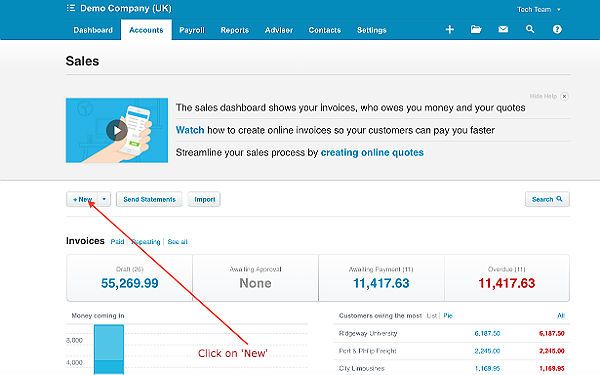 Click or tap on the 'New' button as shown above and you'll see a screen like the next below.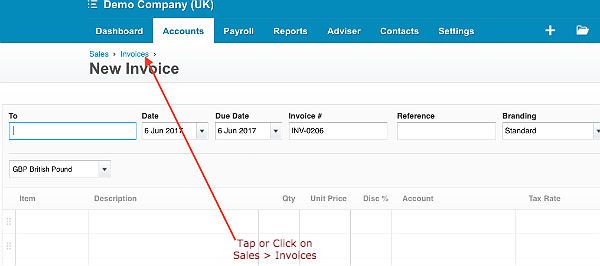 Click on the link 'Sales Invoices ' as shown above and your new draft invoices will appear as in the example below.

While logged into your Xero account you can view your draft invoices by clicking on the following link.
https://go.xero.com/AccountsReceivable/Search.aspx?invoiceStatus=INVOICESTATUS/DRAFT