How to Add Pages to Your AirPOS e-commerce Site
In the 'E-commerce Pages' section under the 'E-commerce' tab in the left margin of the backoffice, you can create and manage custom pages on your AirPOS e-commerce site to provide information to visitors to your AirPOS E-commerce Webstore. Here you can add pages such as 'Shipping Zones, 'Contact Us', 'Terms & Conditions', your 'Returns Policy' and your store 'Opening Hours' etc. The custom AirPOS e-commerce site theme also automatically generates links to these pages for you.
To create your e-commerce site pages tap on 'E-commerce' in the left navigation panel of the backoffice.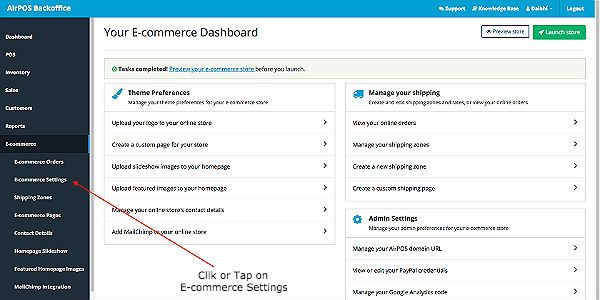 Under that you'll see 'E-commerce Pages'.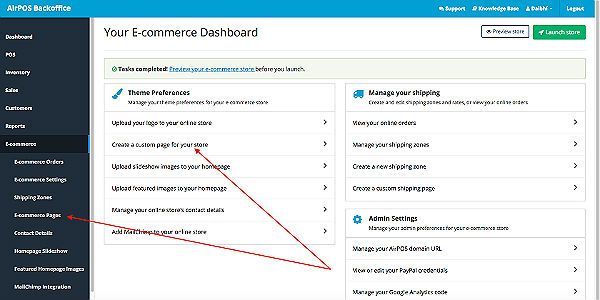 Tap on that and you'll see the following screen.

To create a new page for example for your terms and conditions tap on the 'Create Page' button as shown above. Enter the title of the page and enter your terms and conditions. Once you've completed that tap on the 'Create Page' button as shown below to save the page.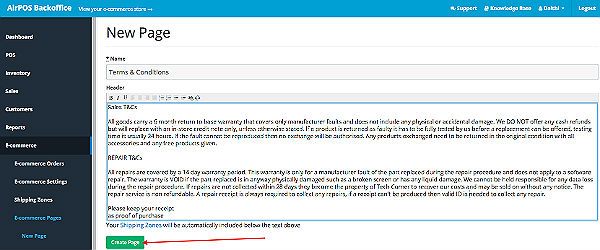 If you want to create a page for your 'Shipping Rates' for example click on the 'Create Shipping Zones Page' button.

You'll see a screen where you give the page a title and content. When you've completed editing the page scroll to the bottom and tap on 'Create Page' to save what you've written.