You can have up to three images for featured products and attach a URL (Uniform Resource Locator, colloquially termed a web address) so that when a visitor to your site clicks on an image it will take him to the associated web address. This can be a web address for the product page or the category page in your Webstore (or wherever you want). To do this in your backoffice click or tap on 'e-commerce' from the left margin of the backoffice and then click or tap on the link to 'Featured Homepage Images'.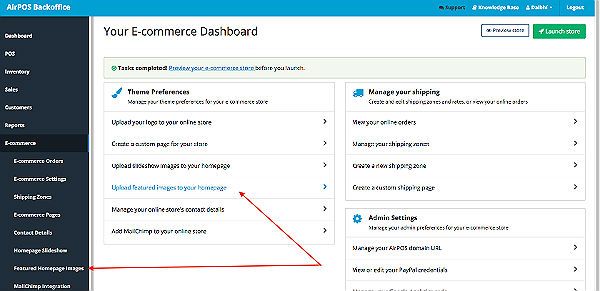 You'll be brought to the 'Featured Homepage Images' screen. You can upload images for three featured products and add a URL to them that will redirect a customer to wherever you want them to go. In this instance we used the product page for each featured item. The images should be no larger than 1300 X 450 pixels. If they are larger they may be truncated or distorted.
Click in the 'Choose File' box and choose an image from your computer. Copy and paste the URL in the box below and press the 'Save & Upload' button.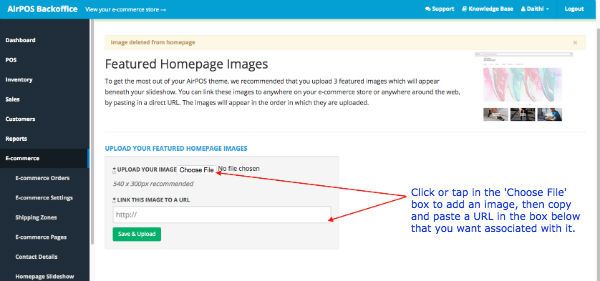 You can edit the size of your images with a free web based photo editor such as the one at the link below.
https://pixlr.com/editor/
Each image you upload will appear to the right of the screen with the associated URL below. You can delete an image and upload another for another featured or promotional product by pressing the 'Delete' button beside each image.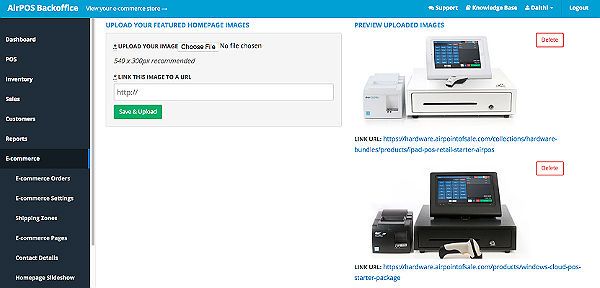 After uploading each image go to your AirPOS e-commerce Webstore homepage and refresh the screen. Your featured products will appear below your slideshow images and if you click on one of them you'll be brought to the web address associated with the image.