If you have an older printer which connects via a serial port you will need to connect the device by cable to your windows machine, then go to your Start menu and select 'Devices and Printers'. Next click on the 'Add a Local Printer' option. In the drop down list beside 'Use an existing port:' select a 'COM: (Serial Port)'.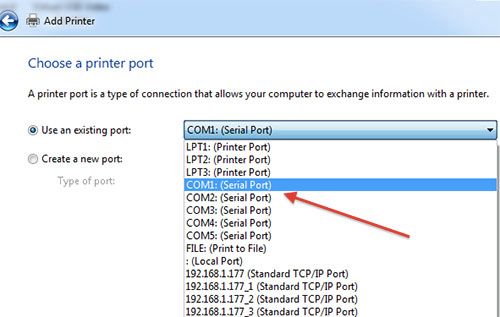 Click the 'Next' button and in the Manufacturer panel select 'Generic' and in the 'Printer' panel select 'Generic/Text Only'.

Click next and on the following screen if the option to use the driver already installed is selected press the 'Next' button again.

The resultant screen will have the name of the printer as 'Generic/Text Only'. Choose next again.

The following screen will prompt you to provide a name for a user to share the printer. If you do not wish to share the printer click next. Click on the 'Print a test page' button.

If the printer successfully prints then press the 'Finish' button.

If the test print is unsuccessful there are two probable reasons for this;

The wrong port has been selected. In this event go back to your 'Devices and Printers' and delete the newly installed printer and go through the above process again selecting this time a different 'COM: (Serial Port)'.
The wrong Baud speed has been specified. In this case you will need to consult the User Manual (which you can probably find online) Some printers have 'Dipswitches' on the bottom which can be used to modify aspects of the printer behaviour such as handshaking and parity check as well as printing density and baud speed.