At the end of your free trial if you choose to continue to use AirPOS we ask that you enter your billing details. These are managed and secured by PayPal.

NB: Occasionally, PayPal will ask that you re-enter your billing details for verification as a security measure. You will not be charged twice for re-entering your billing details in this way.

Entering your details is a straightforward process.
When you login to your backoffice you'll be brought first to your Dashboard. At the top of the screen is a pink bar to prompt you to enter your billing details. Tap or click on that as shown below.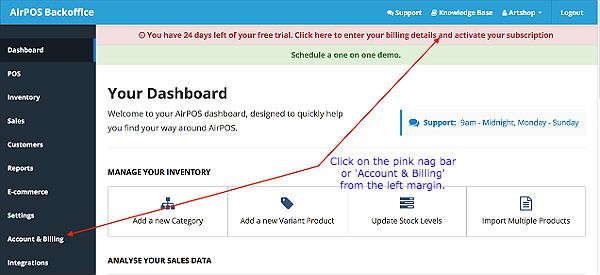 You can also access the add billing details page by clicking "Account & Billing" in the left hand navigation, then clicking the "Billing Details" tab on the screen.

In either case, the screen will refresh to one where you enter your billing name and address like that below.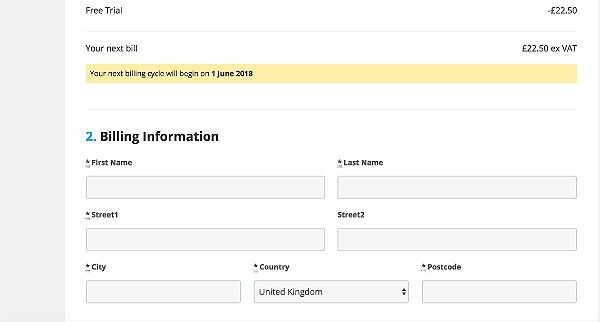 Enter your  Name, Address, Country and Postcode in the appropriate fields and scroll down.

Next enter your card number the box for your card number. Enter the 16 digit number on the front of your card.  The Card Security Code (CVV) is the last three digits of the number on the back of your card. Enter the expiry date by clicking in the first box and selecting the month and in the second box to select the year. AirPOS doesn't store or have access to any of this information.
Finally cast your eye over everything and if it looks OK press the blue 'Join AirPOS' button and that should be you good to go.
How to View your AirPOS Subscription Receipts and save them as PDFs.
In your backoffice if you click on your company name at the top right of the screen and select 'Account & Billing' from the pop up menu as seen below you can view all of your subscription payment receipts.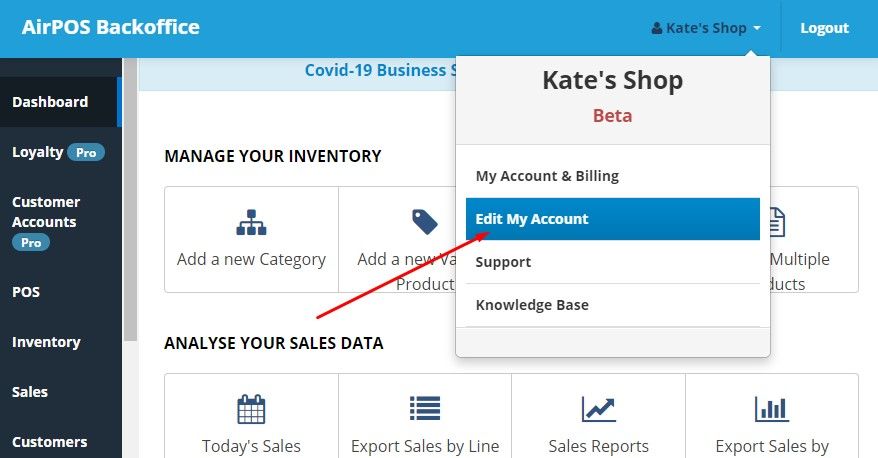 Alternatively from the bottom left margin in your backoffice tap or click on 'Account & Billing' and select 'Payment Receipts' as shown below.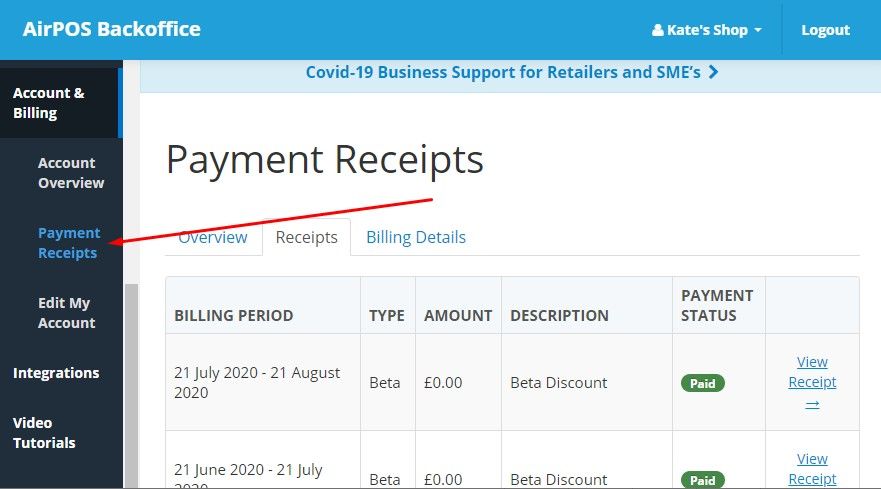 We recommend using Google Chrome which will allow you allow you to save web pages as PDF files. To do this click on the 'View Receipt' link to view the details of the receipt. Press Ctrl+P (or Cmd+P if you are on a Mac) to open the Print dialog and change the destination printer to "Save as PDF." Hit the Print button and the current web page will instantly download as a PDF document. Simple!
If you click on the link to the right of each entry you can view each receipt as seen below.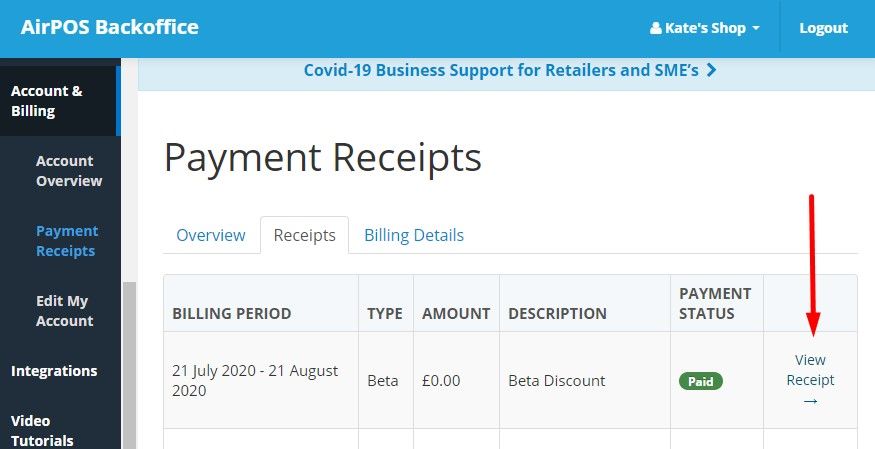 In the detailed view is a link to 'View VAT Receipt'.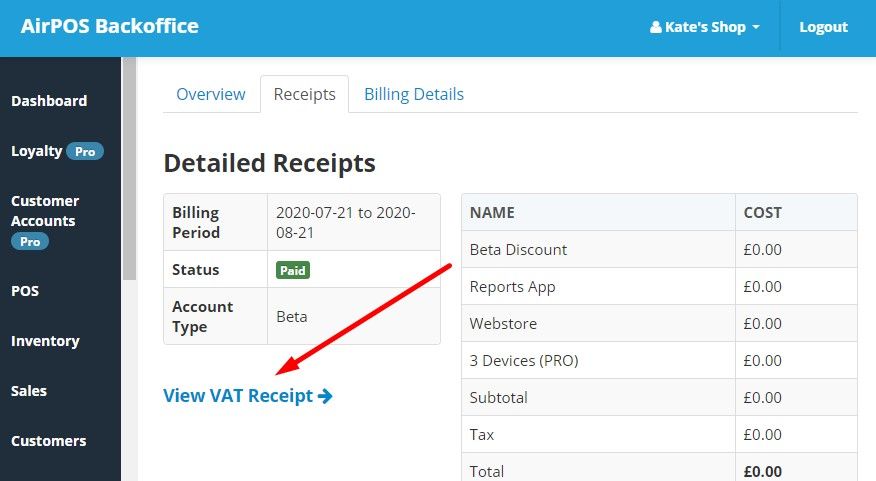 Which will show you the VAT receipt which you can print or save as a PDF.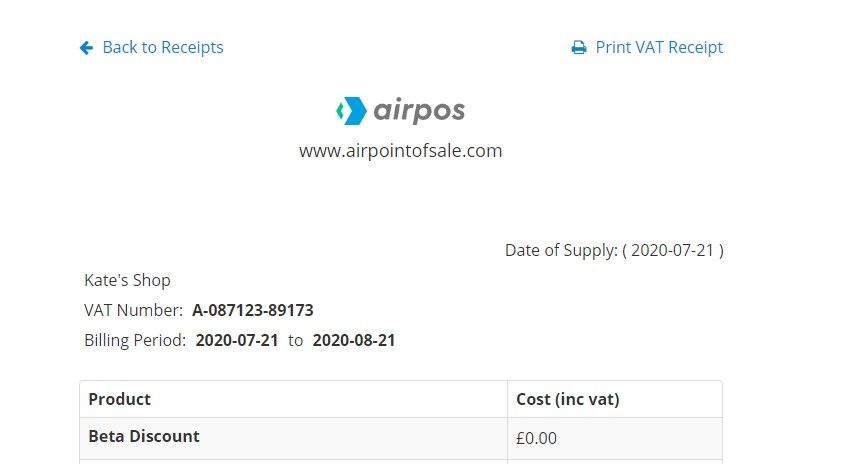 You neither have to install any software on your computer nor any extensions in your browser because Google Chrome itself acts as the PDF writer.
Note: Occasionally PayPal, for security reasons will require you to sign in to your account in order to continue with your subscription.