This section describes how to configure logos to be stored on the printer. To add a logo to your receipts, you must first download the Epson TM-T88V Printer Settings Utility from the following link
Epson TM-T88V Printer Settings Utility
Select [Start] - [All Programs] - [EPSON] - [TM-T88V Software] - [TM-T88V Utility].
The following screen appears. Select the printer to use and click the [OK] button.
Click on the Storing Logos button from the left hand navigation panel.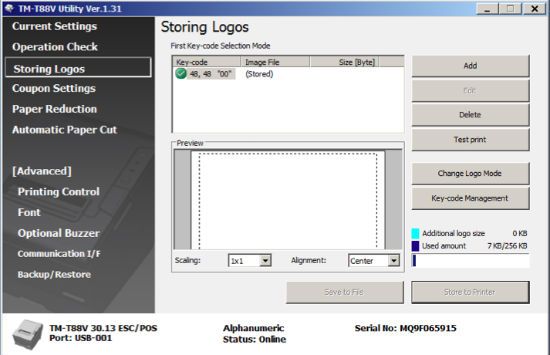 Delete the 48, 48 Stored image key-code.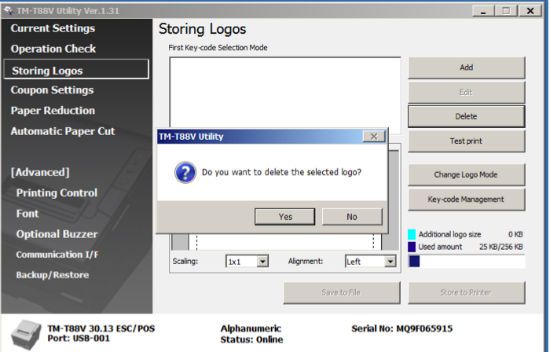 Then click the [Add] Button on the top right of the popup window.
Specify the image data to be used as a logo.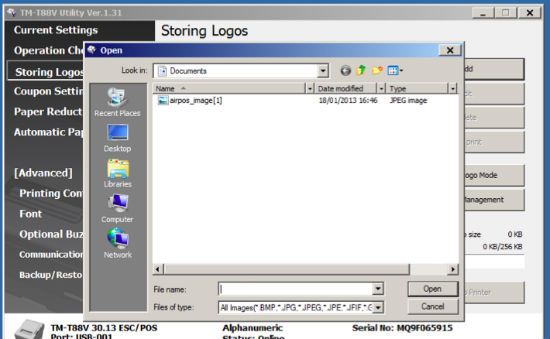 The [Logo Edit] screen appears. Click the [Monochrome] or [Multi-tone] button to select the format of the image to be printed.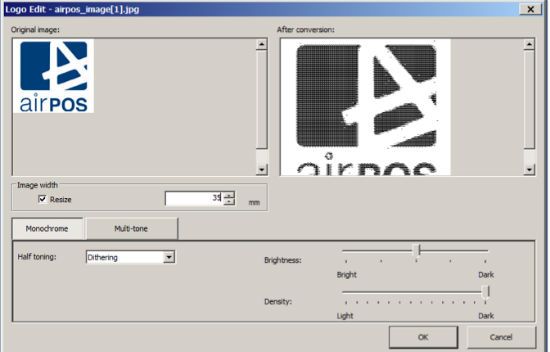 NB: A file size of 2047 (W) x 831 (H) pixels or less can be specified, and the format can be bmp, jpeg, gif, or png. If the logo width is greater than the paper width (greater than 512 dots for 80 mm width, or greater than 360 dots for 58 mm width), a warning message will appear. Click the [OK] button and reduce the logo size in the [Logo Edit] screen.
Edit the logo image size (we recommend 35mm)
Then select where you want to align your logo (we recommend centre alignment)
When finished, select [Store to Printer] and click the [Yes] button.
You will then be asked to set the key-code for the logo to be stored. You MUST change the 'Decimal Number' to 48, 48 and leave the 'Character' as 0,0 as can be seen below.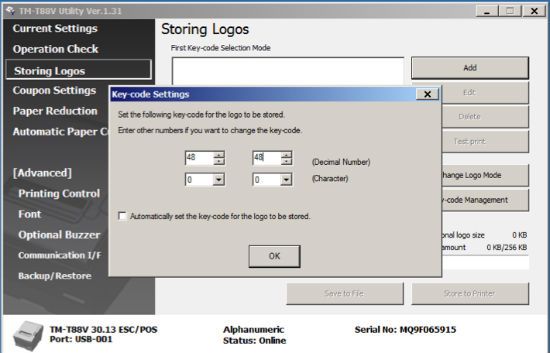 Press the OK button.
Your logo will now be stored in the printer utility.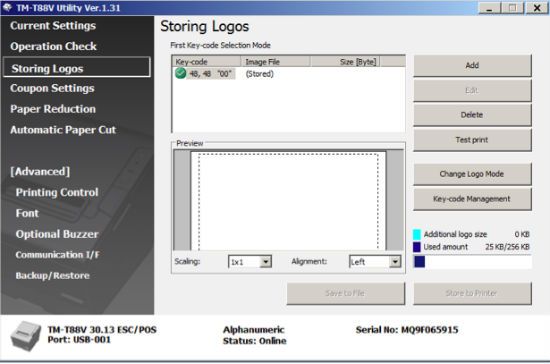 You must then close out of printer utility, load AirPOS back up and print a receipt – Your logo will now display at the top of your receipt.