This section describes how to configure logos to be stored on the printer.
To add a logo to your receipts, you must first download the Epson TM-T20 Printer Settings Utility from the following link click here.
Installing Advanced Printer Driver Ver5 Manual
The Easy Install does not install the Advanced Printer Driver manual. To see the manual, install it separately as per the instructions below…or you can view the manual at the following link Epson TM-T20 Users Manual
Insert the TM-T20 Software & Documents Disc into the computer. The TM-T20 Software Installer is automatically read and the EPSON TM-T20 Software Installer screen appears. Click the Install Now button. When the TM-T20 Software Installer is not automatically read, double click the TMInstallNavi.exe icon in the TM-T20 Software & Documents Disc.
The License Agreement screen appears. Read the content and select the I accept the terms in the license agreement. Then click the Next button.
Select Start > All Programs > EPSON > TM-T20 Software > TM-T20 Utility
The following screen appears. Select the printer to use and click the [OK] button.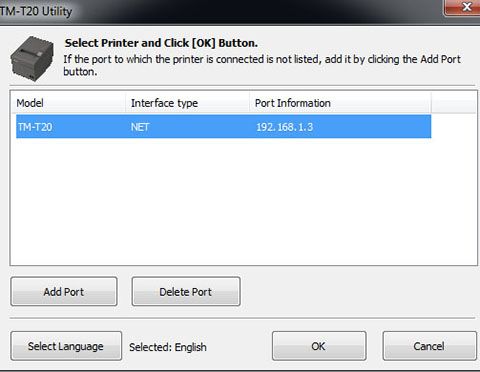 Click on the Storing Logos button from the left hand navigation pane of the new screen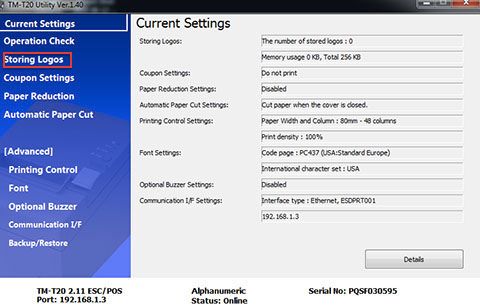 Then click on the Add button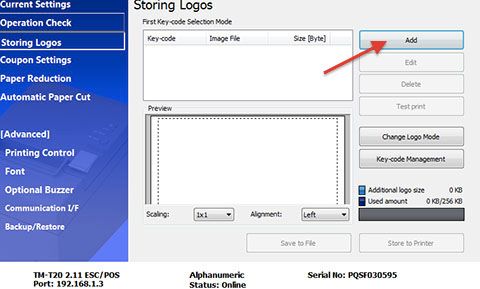 Choose the image you want to use as your logo and open it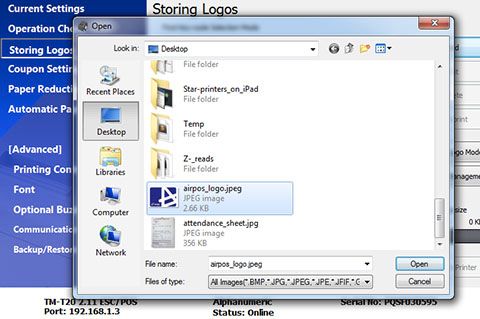 You will see a preview of the logo.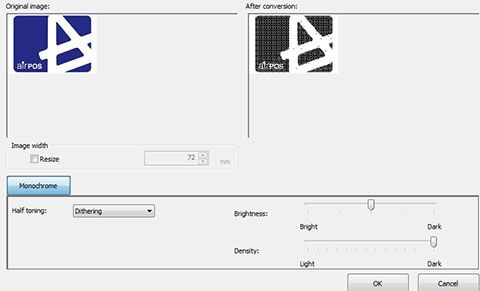 A file size of 2047 (W) x 831 (H) pixels or less can be specified, and the format can be bmp, jpeg, gif, or png. If the logo width is greater than the paper width (greater than 512 dots for 80 mm width, or greater than 360 dots for 58 mm width), a warning message will appear. Click the [OK] button and reduce the logo size in the [Logo Edit] screen.
If you tick the resize box you can edit the image size (we recommend 35mm) Click OK.
The system will asign a key code to your logo. On the new screen click the 'Change Logo Mode' button. Deselect the 'Automatically set the key-code for the logo to be stored' box and ensure both the numbers at the top of the screen read 48 at (decimal point) and the other two numbers at (Character) read 0. Click ok.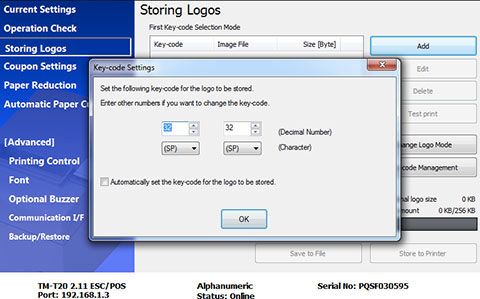 Here you can align your image (left, centre or right). Press the 'Store to Printer' button.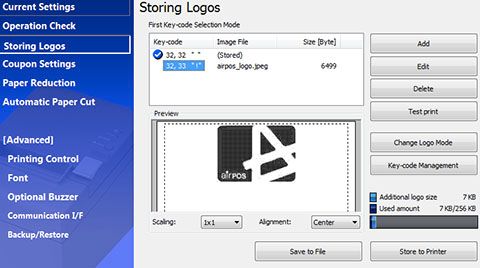 Next press the 'Printing Control' button under [Advanced] and from the dropdown list beside logo select enabled.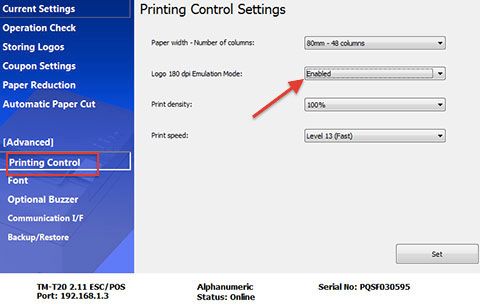 Your logo is now stored in the printer utility. Close the printer utility and load AirPOS back and your logo will now appear at the top of your receipt.